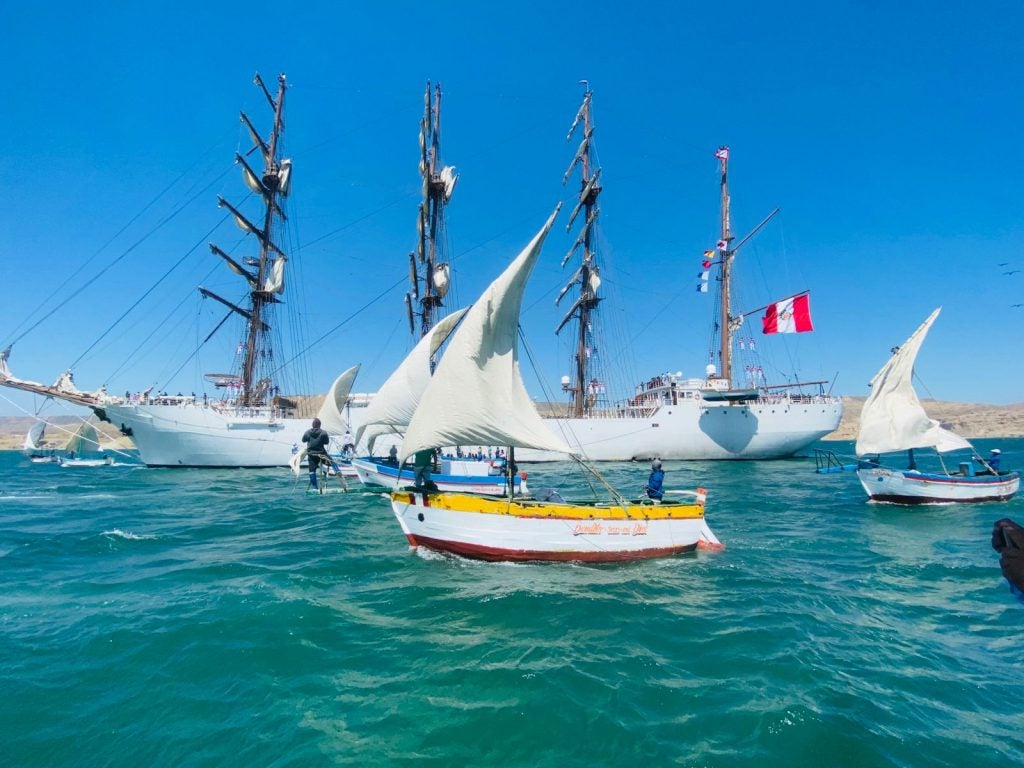 By Nina Pardo and Hector Soldi
On June 4, a small but mighty fleet of artisanal sailboats from the fishing communities of Cabo Blanco and El Ñuro in northern Peru unfolded their sails and went out to sea — sailing alongside the Peruvian Navy's sailing vessel La Unión. This annual regatta is a salute to the artisanal fishing fleet of Peru, which uses only the wind in their sails and their ancient traditions of navigation to fish a variety of important species for local seafood markets and restaurants. In addition, this fleet was recently declared a National Cultural Heritage. Honoring these fishers was especially important this year.
With the fisher representatives from these communities and the local and central government authorities, a tribute was paid to Peru's artisanal fishers and their relatives who lost their lives due to the COVID-19 pandemic. A large floral wreath was thrown into the sea to commemorate them.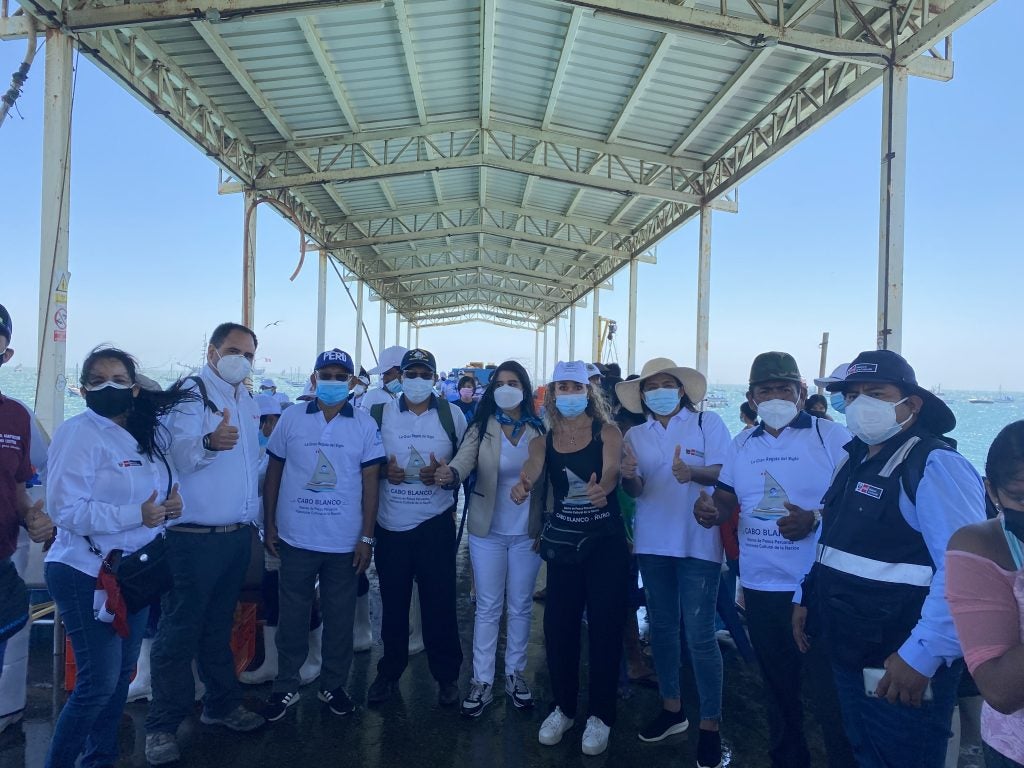 This regatta tradition is celebrated every year on June 29, the day of Saint Peter: patron saint of artisanal fishers. The crew from all sailing boats participate in this regatta, showing off their navigational skills through the strong local winds and currents. These skills are ancestral practices inherited from pre-Hispanic times and passed down through several generations. The skills of these artisanal fishers are viewed as part of the cultural heritage of Peru and are valued not just for their history but for their modern-day use in fisheries as well.
The fishing grounds of this artisanal sailing fleet are renowned for their ​​great biological diversity and abundance due to the cold waters of the Humboldt Current meeting with the warm, tropical waters of the southbound equatorial current. It is here where these fishers catch tuna and other valuable species with selective fishing gear, such as traditional hand lines or the currican pole system — using only the wind as their energy, and their great ability for sailing.
This region of northern Peru is not only recognized for their traditional sailboats, it is also world-famous for sportfishing. A record catch of a 1,560-pound marlin in 1953 still stands to this date. A famous character who visited Cabo Blanco in that golden age of fishing was the writer Ernest Hemingway, whose novel "The Old Man and the Sea" was made into a movie with scenes of marlin fishing, filmed in the waters off Cabo Blanco.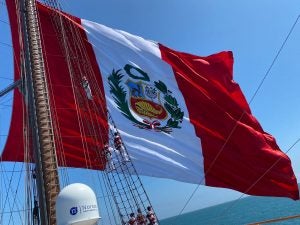 Despite the fact that the fishers of these communities represent the oldest fishing traditions in Peru and have been recognized as a National Cultural Heritage, they still face many challenges. First is that their traditional and ancestral fishing practices, deemed sustainable by many scientists, are not recognized by Peru's fishing authorities. Without secure fishing permits, they are considered informal, illegal, unreported and unregulated (or IUU) fishers and face many difficulties in selling their catch and making a decent living.
In addition, these communities — due to their precarious healthcare and support systems — have suffered from the COVID-19 pandemic disproportionately, causing the loss of life of many fishers and their relatives and resulting in a devastating human and economic impact.
For this reason, the fisher organizations of Cabo Blanco and El Ñuro, the Peruvian Navy and the non-governmental organization H2Oceanos partnered with EDF to conduct this important ceremony to leave a message of hope for these fishers and future generations — and to renew the resilient spirit of these communities in the face of adversity.
For EDF and our partners, it is important to strengthen the traditional values of these fishing communities.
For this reason, EDF also joins hands with these fishers and the communities of Cabo Blanco and El Ñuro to call on all fishers to
share how they celebrate San Pedro Day
through a photographic contest on the
SSF Hub virtual platform
. The goal of the contest is to recognize the shared cultural identity of all artisanal fishing communities around the world. For EDF and our partners, it is important to strengthen the traditional values of these fishing communities.  EDF has worked hand in hand with the Peruvian government to solve this problem of informal fishers and we urge them to prioritize the legalization process, which would allow these artisanal fishermen to have legal and formal access to the fishery they have been a part of for centuries — ensuring its sustainability and caring for the waters that give them life.
Authors: Nina Pardo and Hector Soldi of H2Oceanos, an institution that runs the technical secretary of the Committee for the Safeguarding of the Cultural Heritage of Peruvian Artisanal Sailboats