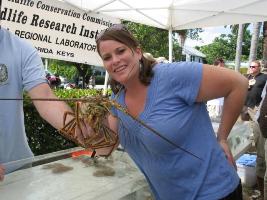 A few weeks ago, I attended the 5th Annual Florida Keys Seafood Festival in Key West where I learned what Florida Keys culture is all about – seafood, sun and fun. As I enjoyed the fresh lobster tails and crab claws, I was able to speak with the actual commercial fishermen who catch Caribbean spiny lobster, stone crab and a variety of sumptuous reef fish. 
Fish houses, which act as fish buyers, retail markets and restaurants, are often a lifeline for fishermen needing financial assistance and are the heart of the fishing industry in the region. I used some of my time touring the operations and observing how fish from the nearby reefs become delicious seafood fare in restaurants. 
Key West has a vibrant and diverse culture. Only 90 miles from Havana, the Cuban influence can be seen everywhere.  As I walked the historic docks, I practiced my Spanish with Cuban American fishermen. "A donde se van a pescar?"
Talking with fisheries managers, academics and state of Florida researchers also educated me on the complexity of fisheries and some of the challenges facing the living marine resources in the Florida Keys. Of particular interest to me was the spiny lobster fishery, which is unique because spiny lobster's tail meat is the only commercially valuable part, unlike the cold water American lobster that has meat-filled claws and tails.
Spiny lobster is valuable to the Keys' culture and national economy, however, research reveals some discontent with the current management system. Growing concerns over proposed new regulations, the high cost of doing business, and illegal poaching and black markets have some commercial fishermen wondering how they can even survive in the spiny lobster fishery.
After listening to fishermen's stories and ideas at the Seafood Festival, which is sponsored by the Florida Keys Commercial Fishermen's Association, I have a much better understanding of the adverse impacts of the spiny lobster management system. This year I'll be spending more time researching and analyzing this fishery and working closely with the fishermen on potential management improvements. I'll keep EDFish readers abreast of my findings.