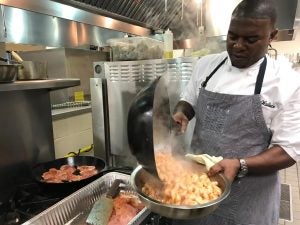 "I learned about sustainability that if you catch too many fish, you'll catch them faster than they can reproduce … and there won't be any more fish."
A simple concept, but one that took decades to integrate into U.S. law — and one that Environmental Defense Fund (EDF) works to establish as an underlying fisheries management principle across the globe. And it's a concept that we hoped to reinforce with an event we held in Jackson, Mississippi focused on connecting local youth to their seafood.
For Sadarius, a gregarious 11-year-old at Blackburn Middle School in Jackson, the idea made sense almost immediately. It was one of the core messages intended to impress upon students at Everyone's Gulf, a collaborative project among Share the Gulf supporters EDF, Chef Nick Wallace, Mississippi Commercial Fisheries United, Gulf Wild™, Mississippi Hospitality and Restaurant Association, Silver Dollar Charters and of course, Blackburn Middle School.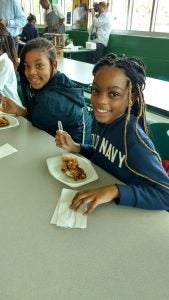 A second fundamental truth we aimed to convey to the students, most of whom were African-American, is that the natural resources of the Gulf of Mexico belong to them as much as they belong to anyone in the country. From the looks in their eyes when I talked to them about congressional advocacy and stakeholder engagement, it may have been the first time many of the students had heard it.
For Blackburn students, Everyone's Gulf presented several firsts. With the Gulf of Mexico a three-to four-hour drive from Jackson, it was the first time several of the students had seen the Gulf. A flurry of raised hands told me it was the first time many had ever been on a boat. And it was certainly the first time any of the 11-year-olds had gone fishing for Gulf species like the redfish, mackerel and jack crevalle we caught that day. I didn't confirm, but I strongly suspect it was the first time the group had seen nationally-recognized Chef Nick Wallace demonstrate how to fillet, debone and cook a red snapper. I know it was for me. And it was probably the first time their U.S. congressman, Rep. Bennie Thompson, sat down at a table and ate with them in their school cafeteria.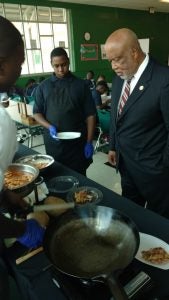 One student told her vice principal that she felt so special — and that was something we'd hoped for too. Rep. Thompson told the group that "great things can come from small places," referencing Chef Wallace's origins in the small rural town of Edwards, Mississippi. That message — that you are important, promising and deserving — was one that the congressman's presence conveyed like nothing else could.
Over the course of the two-day program, we found other indications that our goals were being met and exceeded. During a lively session of the "Fishing Game," created by EDF to demonstrate the varying effectiveness of fishery management strategies, 11-year-old student Isaiah and his group suggested that a way to enhance accountability to catch limits was to use underwater cameras. We were blown away, as this strategy is a core focus of EDF's Smart Boat Initiative. To the students, it was simple, logical problem-solving. Another brilliant student, Aaliyah, asked if we could avoid catching bycatch, fishing undersized species and damaging habitat by only fishing in certain places; she didn't know it when she asked, but she was suggesting "spatial management," which is a broadly-used fishery management tool here in the U.S. and internationally.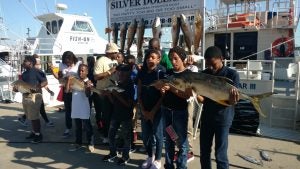 On the second day of the project, traveling home from our invigorating trip complete with a serious catch, dolphin-watching and relaxation, another student turned to me and asked, with concern in his eyes, whether "we caught the acceptable biological catch today." I had to choke back happy tears.
Yet all these sentimental anecdotes don't add up to much without data — we are, after all, a data-driven organization. The data bore out. The students were administered a test before and after the workshop which measured their knowledge of principles of fisheries biology and management and their relationships to sustainability. Of the students who took both the pre-test and the post-test, 72% had improved scores. The most impressive, perhaps, was a student whose score leapt from 10% pre-workshop to 90% post-workshop. The students heard us, and something tells me they won't forget.
Everyone's Gulf was launched and designed as a pilot, and given the success we've seen so far and the enthusiasm of our partners, we're aiming to refine and expand the project. If you'd like to be a part of that, please reach out to Elizabeth Silleck at esilleck@edf.org.