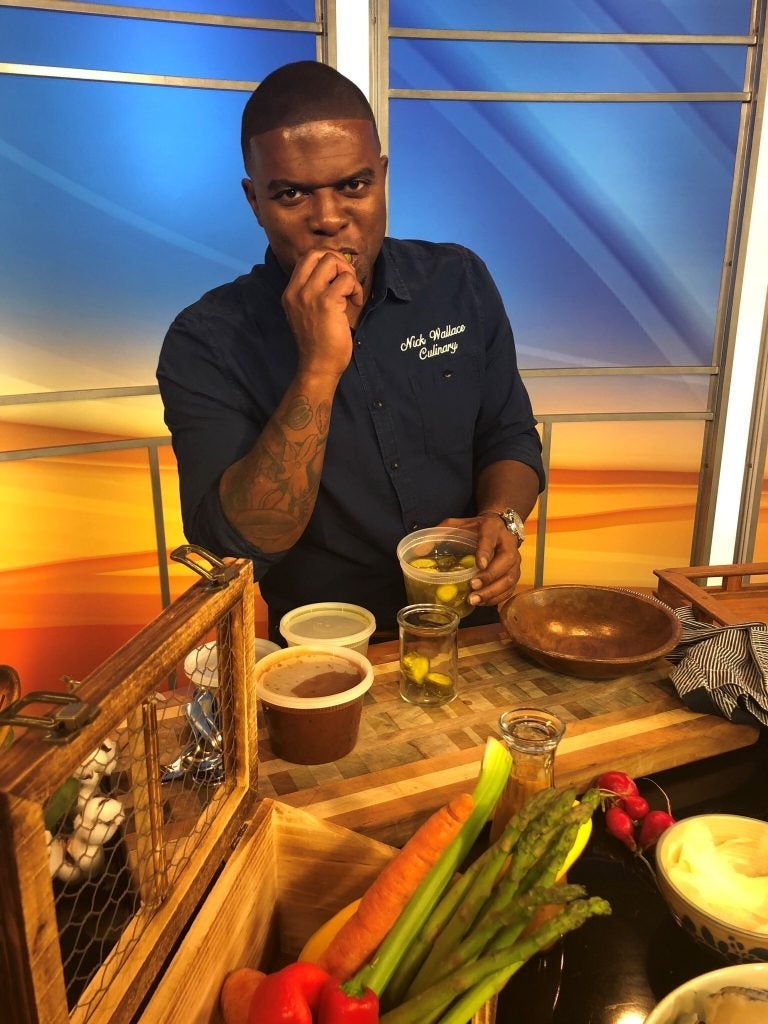 It was never going to be enough for Chef Nick Wallace to only cook food, even as deeply as the passion to cook has driven his life and career. The Chopped chef is on a mission that includes shaping the way children, especially children of color, relate to and think about food.
Creativity Kitchen, Chef Wallace's brainchild, was launched to integrate real, nutritious, local food into urban school cafeterias in the South and the appreciation for its importance into the minds and hearts of the children eating it. "We work with kids who may eat their only meal of the day at school.  By prompting them to think about where that food comes from, what it does for their body and how its production impacts the land, we try to instill a sense of agency that they will take into adulthood—a sense that they can choose what to put in their bodies with an understanding of the impacts of that choice," Chef Wallace explains.
Creativity Kitchen has focused solely on land-produced food up until now, and that's where Environmental Defense Fund's (EDF) Oceans team comes in. With the help of an EDF grant designed to help spur innovative projects, strengthen EDF's partnerships with diverse groups and elevate those partners' work, EDF and Chef Wallace launched Everyone's Gulf. The pilot project will incorporate sustainably-sourced, traceable seafood into the Creativity Kitchen curriculum, starting with Blackburn Middle School in Jackson, MS, its café staff, and a cohort of its students, 98% of whom are African-American.
EDF's team in the Gulf of Mexico works on shaping fisheries policy in the Gulf of Mexico day in and day out, with a focus on conservation. What often gets lost in the conversation around managing fishery resources is the fact that these resources belong to everyone in the American public, including a 6th grader in Jackson, MS who may have never learned that she has a right to those resources just as much as anyone else. In reality, young people will be the biggest beneficiaries of conservation. Everyone's Gulf is an effort to convey that message to the next generation, framed in the context of how their choices can impact the planet.
Key to the environmental impact lesson are Everyone's Gulf partners Gulf WildTM and Mississippi Commercial Fisheries United (MSCFU). Gulf WildTM is the nation's only seafood traceability program built "by fishermen for fishermen." Created by the Gulf of Mexico Reef Fish Shareholders' Alliance, Gulf WildTM requires participating fishermen to operate at a higher standard of accountability than the rest of the fleet, creating added value to their product. Gulf WildTM seafood (as its name suggests) is guaranteed wild, fresh, and local—hyper-local, in that it originates solely from the Gulf of Mexico. Each Gulf WildTM fish is tagged with an individual QR-coded tag, which consumers can use to learn about the fish they are enjoying, including the location it was caught, the captain and vessel that caught it, and the path it took to reach their plate. This unique traceability system will engage the next generation of seafood consumers at Blackburn by showing them a unique application of technology in their back yard.
MSCFU, an organization of Mississippi commercial fishermen that advocates for policies to sustain both the resources and the historically important Mississippi fishing industry, will bring a hyper-local taste of the state's most iconic catch, shrimp, to the table. The U.S. shrimp fishery has made enormous strides in reducing and avoiding bycatch through technology and using best practices, and the catches are widely recognized as superior to foreign imports in both quality and environmental impact. The way fish are caught matters—this is a core take-home message of Everyone's Gulf.
The program also has the support of the Mississippi Hospitality and Restaurant Association, an industry group that takes pride in its Mississippi Seafood Trail and the state's seafood heritage. The Mississippi Hospitality and Restaurant Association has worked closely with MSCFU and Chef Wallace to promote fresh, wild-caught seafood in the state.
But Everyone's Gulf won't end in the classroom. To really connect to fisheries, a person needs to get out on the water. Rounding out the in-class lessons and hands-on culinary preparation, Blackburn students and café staff will have the chance to venture out into the Gulf waters off Biloxi, MS with local fishing partner Silver Dollar Charters to catch fish of their own.
"You can fully absorb the fact that seafood comes from a living, changing population of fish when you actually see it come out of the water," Captain Dustin Troschesett of Silver Dollar Charters notes. "We hope it will not only be a fun, unforgettable experience for the students, but will drive home the fact that although they are renewable, these resources are not infinite, and everyone has both a right and a responsibility to make sure they are managed responsibly for the future."