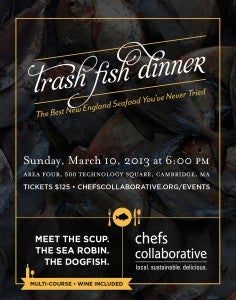 Today's 'Fish on Friday' post will be a little bit different. Rather than focusing on a single species or fisherman, we want to highlight a growing movement and event to celebrate lesser known fish species and support New England fishermen—who need the support now more than ever.
With substantial catch reductions looming for Atlantic cod and several other popular species, you might think that buying sustainable, local seafood would be more challenging than ever. However there are many other healthy fish populations in New England's waters, and with a little creativity, they could become staples of your seafood repertoire.
Sometimes called "trash fish," underutilized fish species such as redfish, hake, Atlantic pollock and sea robin, have long taken a back seat on fishing vessels and restaurant menus to more popular species, such as cod. But that doesn't mean they aren't worth your attention.
So if you'd like to support the New England fishing industry as you enjoy a delicious seafood dinner for Lent, consider giving some of these species a try. Chef Michael Leviton, chef/owner of Lumiere in Newton, MA, and Area Four in Cambridge, MA, believes so strongly in the potential for these species he's organizing a "coming out" party for these fish on behalf of Chefs Collaborative, of which he is also chairman of the board.
The Event: Trash Fish Dinner
On March 10, Leviton will join chefs Rich Garcia, Larry Leibowitz, Evan Mallett, Mary Reilly, Jake Rojas, Michael Scelfo, Derek Wagner and Drew Hedlund as they present a multi-course Trash Fish Dinner featuring underutilized species at Area Four. Dinner will be followed by a discussion of the future of sustainable seafood. Environmental Defense Fund is a lead sponsor of the event.
As for how to prepare these fish at home, hake and pollock substitute well for most recipes that call for cod or haddock. Sea robin, known for its bright, wing-like fins and its propensity for stealing bait, is often used in traditional Italian recipes or as an ingredient in bouillabaisse.
Can't make it to the March 10 Chefs Collaborative dinner? Consider trying Chef Rich Garcia's mouthwatering recipe for 'Trash Fish' Minestrone:
'Trash Fish' Minestrone:
Ingredients
8 ounces dried Maine Yellow Eyed beans soaked overnight (any dried white bean will work)
3 ounces slab bacon, cut into 1/4 inch pieces
2 Tablespoons olive oil blend
5 garlic cloves, finely chopped
2 pieces celery, medium dice
2 medium onions, medium dice
3 carrots, peeled and medium dice
8 cups lobster stock (you can also use good quality fish stock)
1 white potato cut into 1/2 inch cubes
1/2 cup winter squash medium dice (butternut, red kuri etc)
15 ounce canned plum tomatoes drained and chopped
1/2 cup shredded Savoy cabbage
2 Tablespoons chopped fresh basil
6 ounce kale rough chopped
8 ounces cooked Maine lobster, cut into bite-sized pieces
8 ounces Gulf Of Maine Acadian red fish fillets, boneless/skinless cut into 1×1 chunks and sautéed until cooked
8 ounces Gulf Of Maine Pollock boneless/skinless cut into 1×1 chunks and sautéed until cooked
Sea salt and freshly ground black pepper
freshly grated Parmigiano-Reggiano cheese
Instructions:
Cook the soaked beans in water until they are just tender. Reserve.
Using a large, heavy soup pot, fry the bacon in the olive oil. Add the garlic, stirring and cooking until it starts to just brown. Add the chopped celery, onion, and carrots, stirring and cooking until the vegetables start to soften. Stir in the lobster stock and bring the mixture to a boil.
Add the potatoes and squash and cook until they start to soften, then stir in the beans, plum tomatoes, Savoy cabbage, kale and basil. Simmer the mixture for about 10 minutes. Season to taste with sea salt and fresh pepper.
When ready to serve, bring the soup to just under a boil and stir in the fish and Maine lobster and cook over gentle heat until seafood is warmed through. Transfer to soup bowls and sprinkle 1 Tablespoon of fresh parmesan cheese on top.
Serves 12