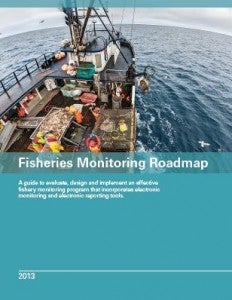 Successful fisheries management is dependent upon timely data collection and analysis.  A robust monitoring program will provide data on catch, specify gear use and evaluate bycatch for fishery stakeholders and managers, which in turn, support and improve stock assessments and ensure catch limits are both optimized and sustainable in the long-term.  Monitoring is a necessary component of accurate catch accounting, yet comes with costs which can be a barrier to implementation.  EDF is working to establish cost-effective monitoring programs in the United States, using a multifaceted approach including electronic monitoring, electronic reporting, on-board observers, logbooks, dockside catch accounting and other tools.  The Fisheries Monitoring Roadmap is a guide developed by a working group of fisheries stakeholders facilitated by EDF to help realize this goal.
As fishery managers and other stakeholders look to new and emerging technologies to meet fishery monitoring and data needs, it is important to recognize that incorporating EM into a fishery monitoring program is a multi-step process that must be tailored to the specific needs of the fishery, fleet and often individual vessels.  The Fishery Monitoring Roadmap outlines the differences between monitoring tools, and matches them with clearly identified management and monitoring goals, ultimately allowing for the optimization of fishery monitoring programs.
The "Roadmap" is essentially a multi-stage, 'how-to' manual for developing or revising a fishery monitoring program.  Additionally, the Roadmap provides anecdotes and case studies highlighting trade-offs that must be considered when selecting among various fishery monitoring tools.  In order to provide the context, background and resources stakeholders may need, the Roadmap includes the following five complementary sections:
A step-by-step process for evaluating, designing and implementing a fishery monitoring program;

A table/matrix that matches fishery data needs with an assessment of the ability of monitoring tools to meet those needs;

A comparison and evaluation of viability and trade-offs (such as cost and accuracy of data) of different monitoring tools;

A list of studies, papers and reports related to electronic monitoring; and

Case studies demonstrating how similar fisheries are implementing different monitoring tools and outlining some of the associated costs.
Although electronic monitoring technologies are being implemented in a number of other countries, the use of electronic monitoring systems in U.S. fisheries is limited. Several fisheries across the country are considering electronic monitoring approaches, and are evaluating technical requirements necessary to ensure effective deployment.  Concurrently, many of the Regional Fishery Management Councils are beginning to explore how electronic monitoring tools can be integrated within existing monitoring frameworks to meet specific data needs.  Next January a national workshop of key technical experts, decision makers and stakeholders will produce updated technical, logistical and policy recommendations.
This is the first in a series of blog posts focusing on electronic monitoring.  Future posts will include snapshots of fisheries in New England, the Mid-Atlantic, the Pacific and the Gulf of Mexico, highlighting challenges, needs and electronic monitoring research currently underway in each of these regions.  A European Union fishery currently using electronic monitoring systems for catch accounting will also be profiled to demonstrate functionality once fully implemented.  Finally, we will conclude the series with a summary of the outcomes and key takeaways from the national electronic monitoring workshop in January.