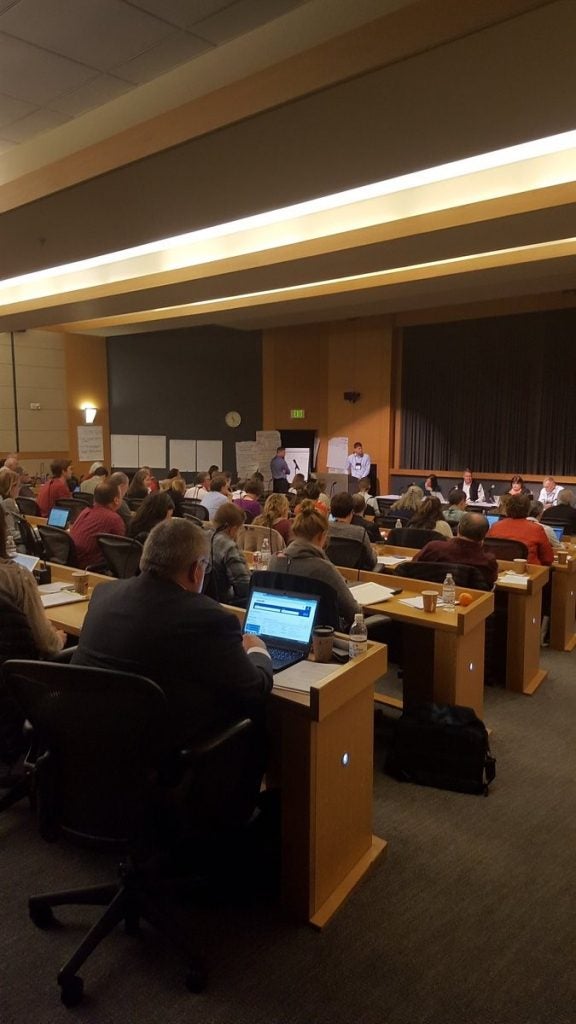 The second national electronic monitoring workshop was held in Seattle, Washington late last year. Hosted by NOAA Fisheries, the goal was to bring together fisheries monitoring and management experts to share what's working in EM implementation projects, what's not, and to develop solutions and paths forward.
The workshop was also a celebration of significant progress taking place. Since the first national workshop held in January 2014, there has been a large scale EM regulatory program implemented in the Atlantic HMS fishery and regulations authorizing EM programs developed through Regional exempted fishing permit and cooperative research projects are scheduled for implementation in 2017 and 2018 in several different fisheries around the country.
These new programs all provide examples of one or more 'best practices' for EM, such as user-centered design approaches, clear goals established at the outset, and consistent collaboration among stakeholders.
The workshop allowed participants who may have felt 'siloed' in their own region to learn what is happening across the country, and provided a forum to talk about tough issues in an open, constructive manner. Fisherman Mike Russo from New England shared his perspective, "I see EM as giving fishermen more power, because their data is no longer anecdotal." This is a strong signal that some in the commercial fishing industry are increasingly supportive of EM as an accountability tool with more opportunities and less cost (than traditional observers). Many participants agreed on the need for improved communication pathways to share EM related information between meetings. For now, EMinformation.com was suggested as a good hub for sharing EM/ER related information.
This year's workshop highlighted successes from around the country:
In Alaska, an 'all hands at the table' EM working group established in 2014 has developed two new pre-implementation programs that are being rolled out for the small boat fixed gear sector of the groundfish fishery through cooperative research and regulations implementing the program is anticipated in 2018
On the West Coast, in spring 2016 the Pacific Fishery Management Council approved the first non-pilot EM program in the nation for two of three sectors of the Pacific groundfish trawl fishery. Program implementation is expected this year.
In New England, 2016 was the first year EM was allowed in lieu of observers on groundfish vessels under an EFP, and two collaborative pilot projects are in process
In the Atlantic, the pelagic longline fishery is coming up on a three-year review of their EM program to monitor Bluefin tuna bycatch with 100% compliance by more than 100 vessels
NOAA Pacific Islands center staff are testing smaller-scale EM projects to protect sea turtles in Mexico, Indonesia, Peru and the Philippines using low-cost hardware on small coastal vessels.
In addition to providing regional summaries, the workshop sessions covered four major cross-cutting themes: program design, costs, enforcement and data. Group dialogue and discussions resulted in a consolidated list of issues that participants plan to give close attention going forward, including:
Balancing the needs for both regional flexibility and national guidance
Integrating EM data into current fisheries monitoring data streams
Streamlining program requirements for fishermen using EM
Getting an accurate cost picture of future regulatory EM programs and who pays for what
Clarifying who owns data, confidentiality, security, and storage costs at the national level
Developing a well-tested and trusted audit-approach as well as third-party reviewer models
Building capacity of EM infrastructure in foreign countries to establish long term EM programs in those countries
Improving outreach and communications within the EM research sector, and between NOAA and industry
A link to the full workshop report will be posted on EMinformation.com as soon as it is available.