EDF staff participated in panel earlier this week at the 26th International Congress for Conservation Biology, spotlighting our new partnership and initiative, Fish Forever, designed to improve fisheries management in developing tropic nations.  Organized by the Society for Conservation Biology, the Congress brings together students and conservation professionals from around the globe to discuss conservation challenges. Through symposia, workshops, printed materials and focus groups, the Congress provides an excellent opportunity to network and present new research and examine developments in conservation science and practice.
The panel, titled "Capacity, Constituency and Conservation: An integrated approach to protect near-shore fisheries for people and biodiversity," allowed the Fish Forever partners – EDF, Rare and the Sustainable Fisheries Group at the University of California Santa Barbara (UCSB ) – to outline numerous aspects of the project.
Fish Forever will work with communities in the developing tropics to reduce overfishing and implement new guidelines that will allow fisheries to recover and more consistently provide the nutrition that so many depend upon.  Part of that work will establish territorial user rights in fisheries (TURFs), coupled with no-take reserves to advance sustainable fisheries and then bring those solutions to scale.
The panel addressed different aspects of effective TURF-reserve design and implementation. Dawn Dougherty of UCSB explained how even data-poor stock assessment models provide value and can be used in countries where Fish Forever will be working. Many small-scale fisheries have little data to estimate the health of fish stocks, but tools are available that can make the most of whatever data are at hand to make management decisions.   Jake Kritzer of EDF then described how marine reserves can be integrated into harvest control rules to improve management and more effectively achieve conservation and fisheries goals. Reserves can act as an assessment tool and serve as a buffer against risks of overfishing.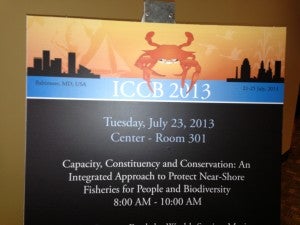 Next, Eleanor Carter of Rare gave an overview and cited case studies of "pride campaigns", Rare's framework for effecting environmental change and Dr. Stacey Sowards of the University of Texas – El Paso outlined the communications theory behind the pride campaign strategy.  Pride campaigns use social marketing techniques to increase knowledge, change attitudes and foster engagement with communities to achieve behavior change that improves conservation outcomes.
EDF's Larry Epstein detailed the development and performance of TURF-reserves in Belize, where over capacity has resulted in nationwide catch reductions.  We worked with the government to develop a TURF-reserves policy to restore fisheries and improve livelihoods.   Currently, there are two TURF-Reserves pilot sites and we have seen positive results in terms of catch reporting and regulatory compliance in a very short period of time.  To gain access to the TURF, fishermen in Belize must report data on the fishery and their catch and comply with fisheries management regulations, creating the appropriate incentives for science and stewardship.   Given the success of TURF-Reserves, government, industry officials and fishermen in Belize are looking at scaling up TURF-Reserves to manage 40% of Belize's fished waters by 2015. 
The Fish Forever partnership provides an opportunity for EDF, Rare, UCSB and local partners to improve fisheries science and knowledge by using data-poor stock assessments to effectively design TURF-Reserves and use social marketing techniques to inspire the necessary behavior changes for sustainable fisheries management.  We are excited to take lessons learned in Belize and leverage collective expertise and experience to deploy successful fisheries solutions in other countries in the tropics.