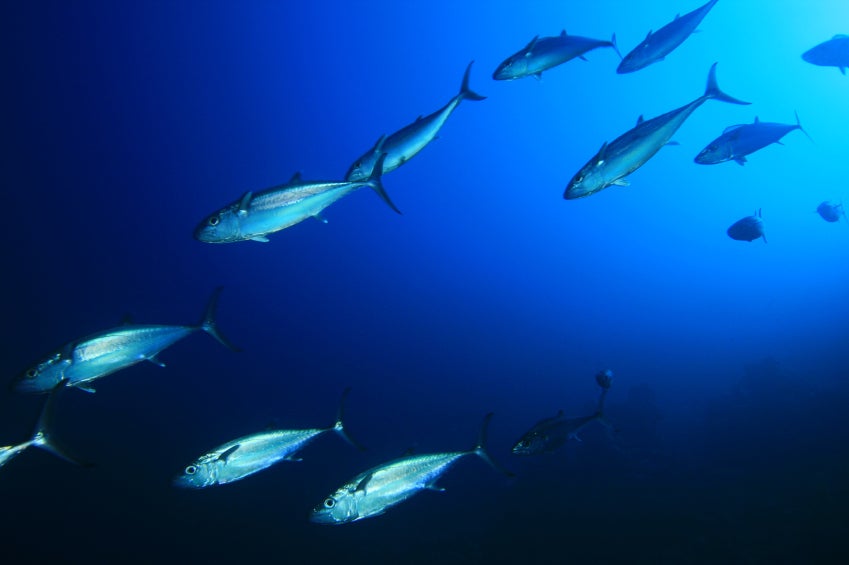 By Vrinda Suresh, Julia Mason and Doug Rader 
During the last two weeks of August 2022, delegates from across the globe gathered in New York City for the Fifth Session of the Intergovernmental Conference, or IGC5, to develop a new treaty to protect biodiversity in offshore waters, called the Biodiversity Beyond National Jurisdiction Agreement, or BBNJ Agreement. The BBNJ Agreement specifically addresses high seas waters, which include all areas more than 200 nautical miles from coastlines and fall outside the management authority of individual countries. The high seas make up nearly 60% of Earth's oceans.  
Teeming with life and woefully understudied, the high seas are increasingly vulnerable to impacts from human activities and remain under protected due to gaps in international governance. The growing recognition that oceans are shared and interconnected—that ocean processes and impacts have consequences for the entire globe—highlights the need for stronger cross boundary governance. Whether or how consensus is reached on the BBNJ Agreement will have lasting implications for how we address the intersecting issues of biodiversity protection, climate change and equity for our oceans. 
What is the BBNJ Agreement? 
The BBNJ Agreement has been many years in the making. In 2004, a U.N. General Assembly resolution first established a working group to study issues of biodiversity, conservation, and sustainability on the high seas. The working group recommended a treaty on BBNJ in 2015 and the First Session of the Intergovernmental Conference was finally held in 2018, with subsequent sessions in 2019 and 2022. 
If consensus is reached, the BBNJ Agreement would be the first legally binding treaty to conserve and promote sustainable use of marine biodiversity in the high seas. The agreement focuses on four areas: marine genetic resources, area-based management tools like marine protected areas, environmental impact assessments and capacity building and transfer of marine technology. 
Outcomes of IGC5 
At IGC5, significant progress was made on all four areas of the treaty package, but delegates failed to reach a consensus on the treaty text and decided to suspend the session and resume negotiations in early 2023.  
Some of the main points of contention from past negotiations carried over to IGC5, including the relationship of the BBNJ Agreement to existing international bodies that govern ocean resources, some of which already address elements of biodiversity. Many issues also broke down along developing/developed country lines, including how benefits from high seas resources can be accessed and shared. These will be priority issues in the next round of negotiations to secure ratifications and ensure effective and equitable implementation of the treaty. 
Creative problem solving will be necessary to secure a strong high seas treaty, and many remain optimistic about the prospect of reaching a consensus when negotiations resume. 
The high seas and climate change 
Though climate change is not mentioned much in the existing treaty text, the BBNJ Agreement has the potential to improve marine biodiversity conservation and leverage opportunities to fight climate change.  
The oceans store more carbon than all forests and soils combined, but climate change and other stressors have degraded pathways to naturally store carbon in our oceans. By restoring natural pathways and protecting existing pathways, we can store more carbon in our oceans in order to mitigate climate change. Species living in the oceans' "Twilight Zone," or mesopelagic zone, may be critical to ocean carbon storage processes and climate change mitigation. The BBNJ Agreement could help to fill gaps in protection for these species. 
Filling the governance gap in the Twilight Zone 
Although commercial fishing in the Twilight Zone is not well established, there is increasing interest in exploiting mesopelagic species. Some countries have already commenced exploratory mesopelagic fishing, which raises concerns about the lack of regulations in place for overseeing high seas mesopelagic fisheries and our lack of knowledge about how fishing might disturb Twilight Zone ecosystems. 
The Agreement's provisions on environmental impact assessments and area-based management tools could be important routes for helping to protect mesopelagic life and its climate change-mitigating potential—although larger scale protection may be needed to sustain carbon sequestration services. Furthermore, international governance of high seas resources could help ensure that commercial and nutritional benefits of any mesopelagic fishing are distributed across nations rather than exclusively accruing to higher income countries with the technological capacity required to harvest these species. 
How the BBNJ Agreement can help 
Regional fishery management organizations already manage certain high seas species but most focus largely or exclusively on commercially important and globally traded tunas and "tuna-like" species. Only about 4.8% of fish species that have been observed in areas beyond national jurisdiction are formally assessed and effectively managed by these organizations. However, the South Pacific Regional Fisheries Management Organization has a somewhat broader mission that includes widely distributed jack mackerel and jumbo flying squid, as well as some deep sea associated species that could allow mesopelagic conservation. In addition, two polar conservation institutions, the Commission for the Conservation of Antarctic Living Marine Resources and the Arctic Council also have broader missions that could allow mesopelagic conservation. For example, the Commission for the Conservation of Antarctic Living Marine Resources already regulates fisheries targeting vertically migrating krill. 
Through its environmental impact assessment provisions, the BBNJ Agreement could support assessments of mesopelagic ecosystems, including their ability to sustain fisheries without impairing their critical carbon processing functions. While regional fishery management organizations do conduct impact assessments, they tend to focus on specific stocks rather than broader ecosystem processes and impacts, partially due to a lack of capacity. The BBNJ Agreement could standardize and enhance the quality of these assessments by setting minimum international guidelines and providing for larger scale strategic environmental assessments. This could be useful in identifying regions or species that are particularly important to protect for their carbon storage capacity. 
The treaty's area-based management provisions could also potentially help with the conservation of mesopelagic fish. Under the draft Agreement, areas requiring protection are to be identified based on the best available science and traditional knowledge, taking into consideration precautionary and ecosystem approaches. Criteria for identification of areas to protect include their "ecological connectivity" and "important ecological processes occurring therein," which could be applicable to the mesopelagic zone. The challenge will be to adapt this tool, which in the past has focused mostly on higher level protections for much smaller areas, rather than area-wide conservation for more broadly distributed species. The challenge will be to adapt this governance tool for ecosystem wide conservation for broadly distributed species rather than high level protections for smaller areas.  
Looking Ahead 
The BBNJ Agreement could provide a framework to help support assessments and conservation of mesopelagic ecosystems, identify regions or species of particular importance to the mesopelagic food web and carbon storage processes and perhaps guide sustainable management of emerging mesopelagic fisheries. If implemented well, it has the potential to support regional fishery management organizations and other high seas regulatory bodies while helping to address urgent gaps in international ocean governance. Although delegations continue to disagree about certain points in the Agreement, many are optimistic about reaching a consensus at the resumed IGC5 negotiations. Securing a strong high seas treaty would help conserve marine life and natural resources, set up instruments to address emerging threats to our oceans and create significant climate co-benefits.