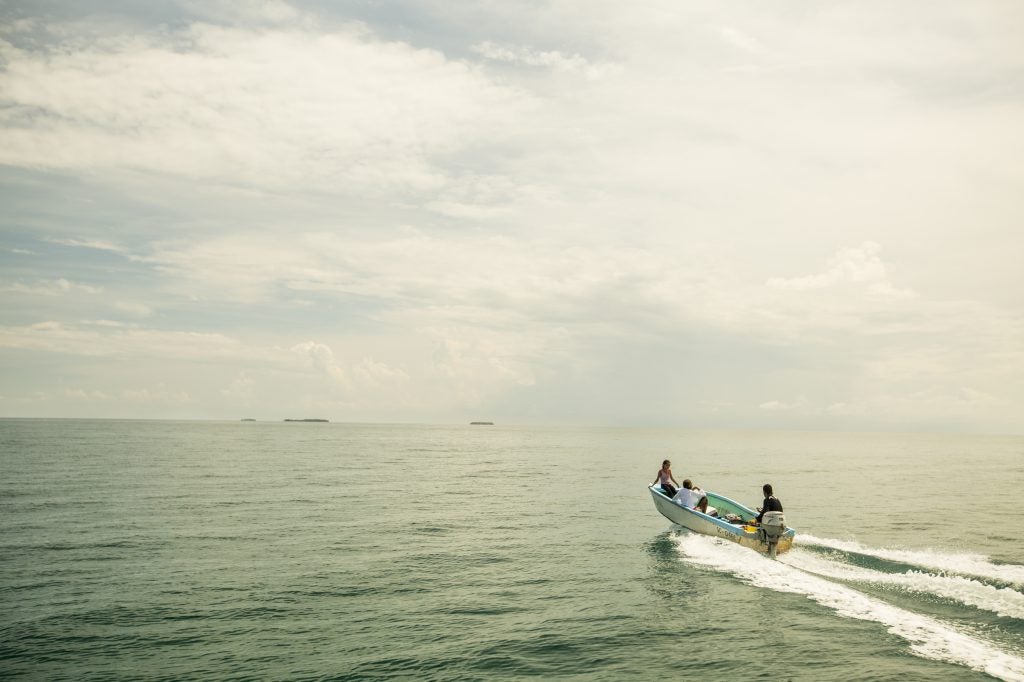 By Bavidra Mohan, Director of Acumen Academy, and Jeff Young, Senior Manager, Global Capacity Development, Environmental Defense Fund
The small-scale fisheries sector is a powerful example of our interconnectedness. Small-scale fisheries employ 90% of all fishworkers globally, supplying nearly half of the world's fish catch each year. In addition to feeding coastal communities, seafood harvested by small-scale fishers ends up on the plates of consumers from Bogotá to Beijing. 
Although small-scale fisheries are critical for the livelihoods and food security of millions, they remain under-resourced and underserved, and they are routinely marginalized in policy-making processes and in decision-making about the management of the resources they depend upon. Meanwhile, the impacts of COVID-19, overfishing and climate change continue to be disproportionately felt by small-scale fishing communities. 
On World Ocean Day 2022, Acumen Academy and Environmental Defense Fund are thrilled to announce our inaugural Resilient Small-Scale Fisheries Leadership Accelerator. Resilience in fisheries and fishing communities relies on innovative, diverse leaders who can navigate increasing uncertainty and drive action toward a more sustainable and equitable future. A reimagined system would recognize and honor the dignity of a fisherwoman in Mexico or Indonesia and her ability to reliably earn for her family and to contribute to a global seafood supply chain that more than 3 billion people around the world rely on as a key source of protein. Our program seeks to lift the voices and dignity of small-scale fishers.
"Around the world, we have seen the power of local leaders to inspire and mobilize people around them to develop solutions that build resilience in small-scale fisheries, communities and ecosystems. This program is about elevating those leaders." —Sarah Poon, Associate Vice President, Fishery Solutions Center, Environmental Defense Fund
Through our Leadership Accelerator, we're making an investment in leaders bold enough to reimagine and transform the fishery systems they work in. Our inaugural cohort includes 13 participants spanning 12 countries—from Chile to the Philippines—and includes social entrepreneurs building digital platforms that support local fisherfolk by improving their market connections, data scientists building an end-to-end seafood ecosystem addressing livelihoods, sustainability and traceability, government leaders driving new public-private partnerships that encourage co-management of the sector, and community leaders creating new fisher cooperative models to help commercial artisanal fisherfolk with strategies to make their livelihoods viable and adaptive to socio-environmental stressors. 
Beginning on June 8th and continuing over a 12-week period, this cohort of global innovative leaders will participate in a series of growth and development sessions, learning about both human and fishery systems and exploring how their decision-making as leaders can drive resilience in their communities and collectively help change the world. Together, they will develop skills to manage uncertainty, foster greater inclusion of marginalized groups, identify and hold space for the core values different people hold, and drive action even in the face of tension. Participants will also gain a powerful network of sustainability-minded peers to support their ongoing growth, development and achievement beyond the program. 
The program brings together leaders like Flora Belinario, who works with small-scale fishing communities in the Philippines, encouraging fishers to adopt sustainable fishing practices, training them on how to improve their product quality and access better markets, and increasing their financial resilience through community savings clubs.
"Joining this accelerator program for me is a good opportunity to enhance our knowledge and skills in terms of the new trends and challenges in the industry. To be an effective leader, we need to be updated and be more innovative in addressing problems of the sector, especially in the most uncertain, ambiguous, and complex times. Learning with like-minded individuals and sharing the same goals and aspirations for our one shared planet is very important to me." —Flora Belinario, Chief Community Engagement Officer, Tindagat.ph. 
Our Accelerator is designed for people like Flora who are willing to step outside the status quo to reimagine and redesign a more collaborative, diverse and sustainable future. The program brings Acumen Academy's flagship leadership training to the small-scale fisheries sector for the first time.
"Our partnership with EDF offers us the unique opportunity to apply our tools of change grounded in moral imagination to the systemic challenges of small-scale fisheries—a sector that is intrinsically connected to the livelihoods and dignity of millions across the world." —Bavidra Mohan, Director of Acumen Academy  
Ultimately, we believe empowered leaders can create lasting transformation in small-scale fisheries systems around the world—a transformation that not only builds resilience on the water but also cultivates more resilient, inclusive, equitable and just systems for people. With the UN designating 2022 as the International Year of Artisanal Fisheries and Aquaculture—a year to push forward innovative, enduring and sustainable solutions—there is no better time than now to cultivate the leaders we need today. We look forward to joining our 13 leaders in their journey of shared learning and inspiration.