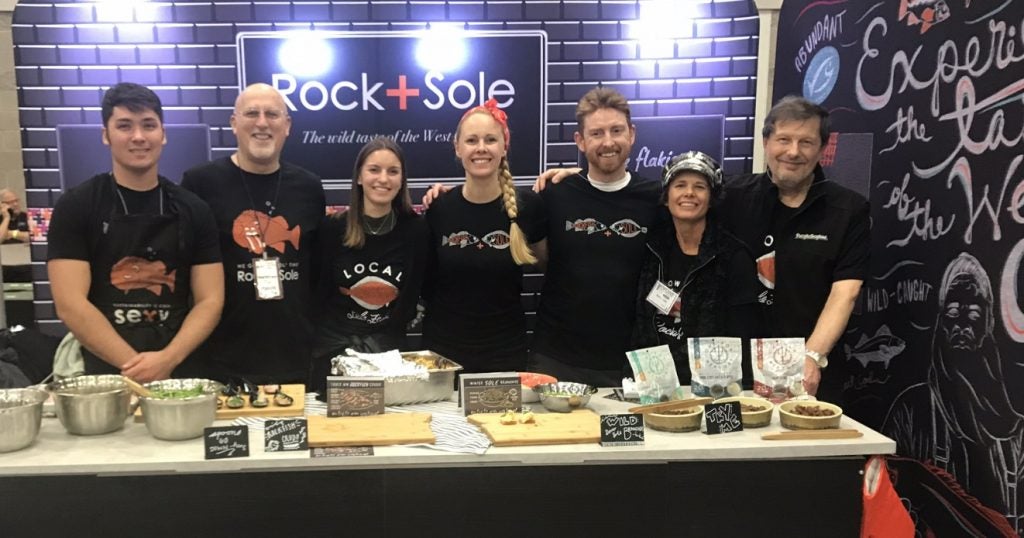 Only 15 minutes had passed since the doors opened for the 14th annual Portland Seafood and Wine festival, and already a crowd was forming around the Rock+Sole booth. Attracted by the bright design of the mock kitchen and the sight of delectable seafood samples being prepared, visitor's faces lit up with curiosity and excitement as they approached. "Step up and try some 100% sustainable, healthy and delicious rockfish and sole!" shouted Jana Hennig, Executive Director of Positively Groundfish, a non-profit trade association whose mission is to promote fish species coming from the West Coast Groundfish trawl fishery.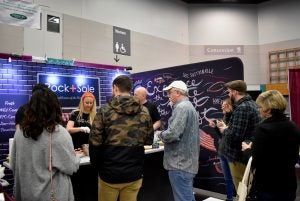 As people tasted the samples of Rockfish Crudo and a Dover sole Brandade created by Chef Chris Bailey, I asked them, "Have you ever tried rockfish/sole before?" Many said, "Yes, of course, but not like this!" Over half of the approximately 3,000 visitors to the booth had never heard of rockfish or Dover sole. "Did you know these fish come from a certified sustainable fishery and are caught right off our coast?" The answer was often a surprised "No, but now that I know I will look for it." Or, "Where do I find them? Where is your restaurant located?"
But you see, Rock+Sole isn't a restaurant, it's a movement to get U.S. consumers hooked on West Coast rockfish and sole.
Pacific rockfish (aka Pacific snapper) and soles, flatfish such as Dover and Petrale, were once some of the most commonly available seafoods on the west coast. They are caught as part of a multi-species trawl fishery targeting groundfish – fish living on or near the bottom of the sea. "The trawl fishery was active in every port from Morro Bay, CA to Neah Bay, WA, it's what kept the lights on for the processors," says Brad Pettinger, a long time commercial fisherman out of Brookings, Oregon and current Board member.
So, what happened?
In the late 1990s and early 2000s many stocks became overfished, and the fishery collapsed. Over the last 15 years, better management, habitat protections and reduced fleet capacity has resulted in the near full recovery of stocks and higher catch rates. In today's trawl fishery, individual quotas coupled with full observer coverage ensure fishermen are 100% accountable for everything they catch, even fish that are discarded at sea. In 2014, the fishery was certified sustainable by the Marine Stewardship Council (MSC), and several key species listed as Best and Good Choices on the Seafood Watch Guide produced by the Monterey Bay Aquarium, a clear sign to the market that species from this fishery should be regarded in a whole new light. Given the demand for more sustainable seafood choices, you'd think this would have been a slam dunk for the industry, right?
But the market waits for no fish.
It only took a couple of years for west coast groundfish to lose its place in the highly competitive globalized seafood market. During the early 2000s when landings plummeted due to the fishery disaster, farmed tilapia, pollock and other cheap and available white fish took their place. Now these 'whitefish' products, many of them imported, have become commonplace in the market. Despite the hard-won recovery and sustainability of west coast rockfish and sole, it hasn't yet caught on in the American psyche, and certainly hasn't made its way back onto their dinner plates. "In order for the conservation gains to stick, and for other fisheries to adopt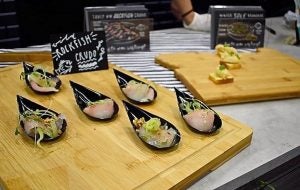 this type of management, the supply and markets side needs to perform well and we just haven't seen that at scale," says Shems Jud, Pacific region director for EDF. Add that to a lack of consumer awareness, a sluggish supply chain, and port infrastructure problems and it's no wonder the groundfish industry has struggled to recover their market.
Positively Groundfish—on a mission to bring sustainable, local rockfish and sole back to consumers
Enter Positively Groundfish, whose mission is to tell the story of this fishery's comeback in a way that inspires a new generation of consumers (chefs, retailers and the public) to appreciate sustainable, local, healthy seafood like rockfish and sole, and ask for it by name.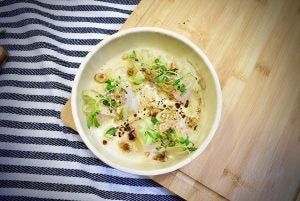 Positively Groundfish was borne out of concern for the economic viability of the industry. "Brad (Pettinger, then the head of the Oregon Trawl Commission), Shems Jud (EDF), and I realized our rockfish quota was increasing significantly, and quickly," said Mike Okoniewski of Pacific Seafood, one of the founding members. "We had been 'off the market' for 15 years, so it was obvious we had to take action and build a collaborative base. We had a great product, and a great success story to tell, but how to do it?  This was the genesis for Positively Groundfish."
The co-founders – a group of processors (Pacific Seafood, Bornstein Seafood, California Shellfish Company), harvesters (represented by the Oregon Trawl Commission), EDF and MSC – each donated seed funding to hire Jana Hennig, a Stanford MBA/Ocean policy grad with 10+ years of business and marketing expertise. Together they have set out to create an organization that can 'lift all boats with a rising tide,' to help the whole industry get back on its feet through better marketing and branding. Current members are mostly based out of Oregon, but the group is working to encourage new members throughout the West Coast by offering marketing data and assistance
What's next?
Now in its second year as a non-profit trade association, and with funding from NOAA's Saltonstall-Kennedy Grant Program to conduct research and marketing campaigns like Rock+Sole, Positively Groundfish is on its way to having a tangible impact. If the response from the Portland festival is any indication, seafood lovers on the West Coast are ready to welcome back rockfish and sole to their dinner plates. By far the most common response to the tasting was, "That was really, really good." "I'm definitely going to add this to my shopping list," said one participant.
With all the dire news about our oceans today, the comeback of an iconic West Coast fishery is a bright spot. Positively Groundfish has a host of events planned throughout the west coast and nationally over the next year, which we hope will start a buzz around pacific rockfish and sole such that it opens a floodgate of new market opportunities and expands market share for fishermen, buyers and processors in all three west coast states where the fishery operates.
So next time you are shopping or dining out and you see West Coast rockfish or sole, try it! If you are part of the fishing/seafood industry, consider joining our mission to spark a rockfish and sole revolution.