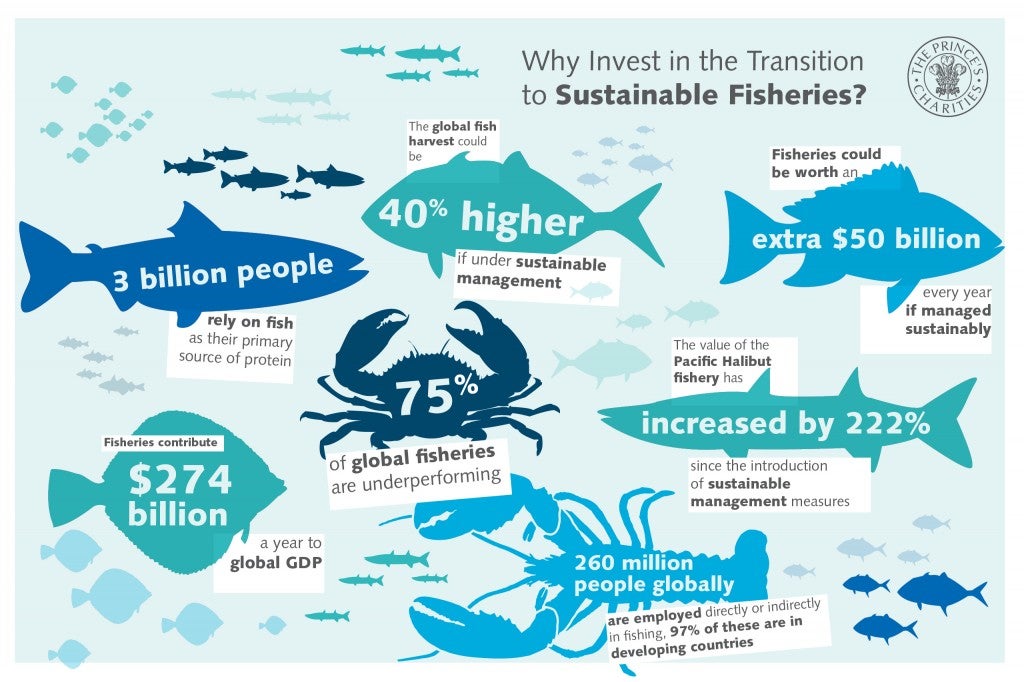 By: Kent Strauss & Erik Lindebo
In partnership with the Prince of Wales's International Sustainability Unit (ISU), and in collaboration with the 50in10 initiative, EDF recently released a report entitled Towards Investment in Sustainable Fisheries: A Framework for Financing the Transition. It outlines a framework for developing fisheries transition projects which achieve sustainability by attracting and leveraging global finance. Intended to inform and inspire fishermen, project developers and other oceans stakeholders, this report looks to empower fishing communities by meeting the financial needs of transitioning to sustainable fisheries.
This is a very timely contribution considering that the fisheries sector and European Union (EU) Member States are currently in the process of implementing the newly reformed Common Fisheries Policy (CFP). The many management challenges, particularly those related to environmental objectives are evident. However, with the right incentives in place, the transition towards more sustainable resource use in EU waters can offer promising opportunities.
Currently there is a heartening movement occurring towards policies that create great landscapes for investment, supported, for instance, by the report's emphasis on the importance of strongly enforced science based catch limits. Under the new CFP, conservation objectives such as Maximum Sustainable Yields (MSY) and discards reduction are well enshrined. The regional development of multi-annual management plans will incorporate these objectives and give the fisheries sector the opportunity to plan its business operations for more than one year at a time.
By incorporating tenure and rights-based solutions we can also achieve greater support for long term investments in proper science-based management of the resource. This will require systems that are developed in a fair and transparent manner, ensuring that stakeholder issues are addressed early on in the process towards achieving durable solutions.
Towards Investment in Sustainable Fisheries… was presented during a meeting hosted by His Royal Highness the Prince of Wales, during which oceans leaders and investors from around the world convened to explore options for financing the transition to a sustainable blue economy.
In a speech at the ISU event Fred Krupp, President of EDF, spoke of 'putting new tools in place to spur public and private investment in fishing communities'. This sentiment was echoed by HRH speaking of the 'many examples around the world that the transition towards sustainability can deliver a wide range of economic, social and ecological benefits'. The tone of the event was confirmed with Commissioner Damanaki's insistence on moving 'away from traditional grants and subsidies towards new alternatives such as revolving funds, guarantees, or venture capital funds'.
Evidently, there is a growing recognition across the world that sustainable fisheries need to be both ecologically and economically sound in order to support the people that depend on them for food and livelihoods, and garner interest from investors looking for social, environmental and financial returns.
Most funding that goes toward towards reinvigorating the oceans at the moment comes from public and philanthropic investors. While they are vital sources of funding for global fisheries transition, the amount available from these alone simply cannot achieve the scale and pace of reform required. Leveraging multiple sources of capital may offer a solution, with special consideration of the ability of financially motivated investors to rapidly scale and deploy large amounts of funding.
Project developers should therefore view and develop their initiatives with financial sustainability in mind, appealing to different types of investors. Likewise, investors should keep their eyes open for opportunities in the up and coming area of the fisheries sector. Nowhere are these opportunities more apparent than in EU waters under the new CFP.