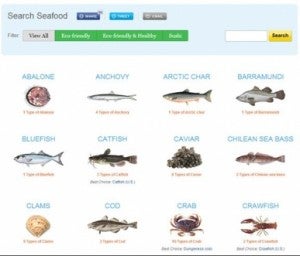 Environmental Defense Fund recently released the latest version of its popular Seafood Selector, a tool to help make consumers aware of critical ocean conservation issues through the fish that they and their families eat. Today I want to take a moment to remember what life was like in 2001, when our first version came out as a small black-and-white paper cutout in the organization's quarterly member newsletter. (I know it's hard to believe, but most people still received their environmental news by snail mail back in those days).
Back then, most people still didn't have cell phones, and those that did just kept them in their gloveboxes for emergencies. I was a graduate student at the University of Hawaii, studying shark ecology and physiology. Even as a young marine biologist, I was largely unaware of the impacts of our personal choices on the health of the oceans.
Raising consumer awareness of ocean conservation issues was no easy task 12 years ago – and is still a challenge today – given the complexity of how most fish makes it to our plates. For example, here are some interesting facts you might not know about the U.S. seafood market:
More than 90% of U.S. seafood is now imported.
Almost two-thirds of our imported fish comes from Asia.
Our seafood trade deficit is approximately $11 billion. That's billion with a 'B'.
Almost 60% of U.S. seafood consumption is from 3 items (shrimp, canned tuna, salmon). If you add 'whitefish', like pollock, cod and tilapia, the per capita total goes up to 80%.
More than 50% of U.S. seafood is now farm-raised.
Roughly 33% of U.S. seafood is mislabeled.
Americans eat 10% less seafood than they did in 2004 (15 lbs/person in 2011 versus 16.6 lbs/person in 2004).
Consumers care about sustainability now more than ever. That means they want to know where their food comes from, and more importantly, what impact its production had on the environment. This is especially true in restaurants, where a recent survey of chefs by the National Restaurant Association found that local and sustainable seafood accounted for three of the Top 10 culinary trends for 2013.
EDF's latest version of the Seafood Selector makes it easier than ever for seafood lovers to make fish choices that are healthy for them AND the oceans, with profiles of more than 200 types of commonly eaten seafood. The new Seafood Selector is also optimized for just about every type of mobile device out there. (I, for one, can't wait to see what the 2023 Seafood Selector looks like!) So whether you want to know the difference between farmed and wild salmon, the mercury content of different types of tuna, or learn more about EDF's fisheries work around the country – Seafood Selector is the tool for you.