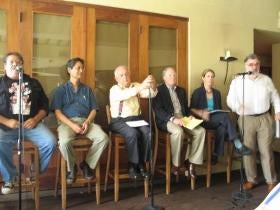 It isn't often that a neighborhood restaurant wades into complex policy discussions about fisheries management, so kudos to Bob Klein of the traditional Italian restaurant Oliveto's in Oakland for hosting a Fisheries Forum on Saturday.  The restaurant not only serves delicious, sustainable seafood – it's also willing to go the extra mile to help educate its customers and the wider community of the importance, challenges, and opportunities of fisheries management.
EDF's marine ecologist Rod Fujita and Pacific Ocean program director Johanna Thomas were invited to be panel participants, along with Erika Feller of The Nature Conservancy, Zeke Grader of the Pacific Coast Federation of Fishermen's Associations and Larry Collins, a crab fisherman from the San Francisco Bay Area. The panel was moderated by Ed Ueber, a former manager of the Cordell Bank Marine Sanctuary.
About 30 people showed up at Oliveto's to learn about the potential of catch share programs – like the recently approved West Coast groundfish IFQ — and community fishing associations – like the innovative Cape Cod Hook Association —  to improve the economics and sustainability of fishing along the Pacific coast. Following the panel discussion, participants were treated to an amazing Italian Riviera-style fisherman's stew comprised of all local fish-rockfish, squid, and clams – with wild fennel pollen, saffron, and olives.
Bravo to Oliveto's and all the participants for their commitment to providing fresh, local, delicious and sustainable seafood from the Bay Area and the California Coast. Hopefully the good meal and good discussions were the beginning of a fresh dialogue, as we all have a stake in preserving California's rich fishing communities.