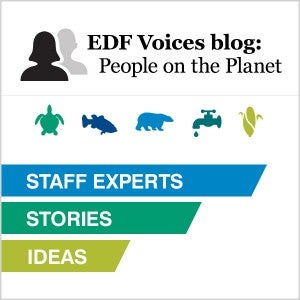 EDFish is where EDF's ocean experts share their thoughts on ocean conservation issues. We advocate and innovate for a healthier ocean and provide a unique perspective on how to restore and maintain sustainable fisheries. However, we know you may have a broad interest in environmental issues.
That's why we wanted to share with you Environmental Defense Fund's new flagship blog, EDF Voices. EDF Voices collects stories, ideas and arguments from all of our EDF expert voices in one place. Our thought leaders use this space to weigh in on all sorts of environmental issues, from stories about ocean conservation in Belize to reflections on a life impacted by a magnificent songbird, the Golden-Cheeked Warbler.
We hope you like what you read on our new EDF Voices blog and become a subscriber!