By: Emilie Litsinger & Lito Mancao (Director, Technical Operations, Rare Philippines)
The communities of Tinambac and Cantilan recently approved the first ever TURF+Reserve designs in the Philippines. This accomplishment follows months of hard work by the Fish Forever team and our talented on-site coordinators, and collaboration with the local government units, village leaders, key agencies, and, most importantly fishers, and community members.
This effort is part of the Fish Forever (FF) program: a collaboration of EDF, Rare, and the Sustainable Fisheries Group at University of California Santa Barbara (UCSB) that empowers fishing communities in the developing tropics to manage their near-shore fisheries with a proven, sustainable management approach called TURF+Reserves.  In the Philippines, the goal of FF is to create a network of TURF+Reserves both within municipal waters (0-15km) and between adjoining municipalities.
These are historic milestones for the communities of Tinambac and Cantilan for many reasons.  Engaged communities and fishers laid the groundwork for sustainable fisheries management by working through and discussing their options to land on a design that works for them and meets their needs.
Stakeholder engagement: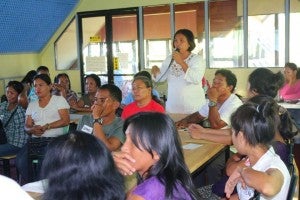 Earlier this year, the Philippines team kicked off and completed the first participatory TURF+Reserve design workshops in Cantilan, Tinambac, and Cortes—three of our pilot sites for Fish Forever in the Philippines.  Community members heard presentations of biophysical fisheries data collected by the University of the Philippines-Marine Science Institute (UP-MSI); shared their local ecological knowledge of spawning grounds, important fishing grounds, aquaculture, and areas of gear conflict; and produced coastal zoning maps. These discussions were further informed by the new fish catch monitoring systems in place and fishers reporting their catch.
We walked municipal officials, village leaders, and fishers through discussions on several fisheries design elements including:  
identifying and prioritizing fisheries challenges;
setting fisheries goals;
selecting species and habitat to prioritize based on best available science and local ecological knowledge;
evaluating the size and location of existing marine reserves;
setting boundaries, fishing rules, and determining access rights to the TURF; and
determining roles and responsibilities for successful co-management between the fishers, municipality, and barangay (village).
Our implementing partners used their social marketing talents to encourage fishers to attend meetings to voice their opinions and needs.  In these discussions, we saw community members get really excited, argumentative, and passionate about making their points of where the TURF should be, why, and who should have access.  Most importantly, we witnessed new levels of cooperation, participation, and enthusiasm for the TURF+Reserve management system that can help these communities sustain their livelihoods and fisheries for years to come.
TURF+Reserve approval and design:
On August 17, the Tinambac municipal legislative council passed an ordinance declaring the Lamit Bay Special Fisheries Management Area (SFMA- what the communities have decided to call TURF+Reserves locally), covering an area of almost 8,000 hectares and including three marine reserves (1 additional reserve was added by the community members as a result of this process).  The harvest regulations that were approved include spawning closures, gear restrictions, deployment limits, and prohibitions on landing egg-bearing female crabs and on using certain harmful, illegal fishing gears and practices (as defined in the national fisheries code).  The map also demarcates seaweed farms as this practice has been present here for over 10 years. The TURF is further broken down into smaller management units at the barangay (village) level for enforcement and management purposes, and grants fishing privileges to Tinambac-Lamit Bay registered fishers.
Shortly after Tinambac, the Cantilan municipal council passed their ordinance, for an SFMA covering a 2 km radius encircling the island
of Ayoke with an existing marine reserve.  The harvest regulations inside the TURF are similar to Tinambac- a mix of gear restrictions, deployment limits, spawning closures for dangit (rabbitfish), and prohibitions on illegal fishing gears and practices.  Fishing privileges are granted within the first 1km ring for Ayoke registered fishers, and in the outer ring to registered Cantilangnon fishers who historically have fished in the area.
These two TURFs are designed to include multiple species of fish. We are still working with fishers and community members to set catch limits, and finding ways for fishers to coordinate on harvesting and marketing opportunities to improve the sustainability and profitability of their catch.
Both ordinances have been approved at the municipal levels, and sent on to their provincial boards for final approval.  If the measures are passed in review, either through a formal resolution of approval or through the provincial boards taking no action after 30 days, then the ordinances will be submitted for posting or publication.  After compliance with all other legal requirements, the ordinances then finally become law.
Looking forward:
While there is still work to be done to ensure that these programs are implemented and managed successfully, the approval and design of the TURF+Reserves in Tinambac and Cantilan are huge milestones for these fishing communities. Consensus building takes time and effort, but the work will pay off in the future: through that lengthy process the communities came together in support of a shared vision for their fisheries.
We are now focused on making sure to translate these designs into fully implemented and functioning TURF+Reserve systems that we can use as first proof-of-concepts here in the Philippines to catalyze nationwide change to create networks of TURF+Reserves.  We are encouraged that we now have whole communities working towards the same vision, and look forward to supporting them in the future.
Acknowledgements:
This work would not be possible without our hardworking colleagues at Rare and the Sustainable Fisheries Group at the University of California, Santa Barbara (UCSB),  and our implementing partners including:
Catherine B. Demesa, NSLC, Executive Director, Rare Conservation Fellow, Cherry M. Ravelo-Salazar, Agricultural Technologist, MAO, LGU-Cantilan, Surigao del Sur/Rare Alumni Conservation Fellow, Vincent A. Duenas, CRMO/Rare Alumni Conservation Fellow, Local Government Unit of Cortes, Rocky Sanchez Tirona, VP, Rare Philippines, Julius Guirjen, Manger, Fisheries Program Implementation, Rare Philippines, Koko Tandang, Manager, Fisheries Organizational and Institutional Development, Rare Philippines, Gerald Maglinte, Attorney, Jun Amolo, Senior Manager, Marine Governance, Rare Philippines, Pablo Rojas, Senior Manager, Monitoring and Evaluation, Rare Philippines, Dean Apistar, Associate, Monitoring and Evaluation, Rare Philippines, and our colleagues at the Sustainable Fisheries Group at the University of California, Santa Barbara (UCSB).