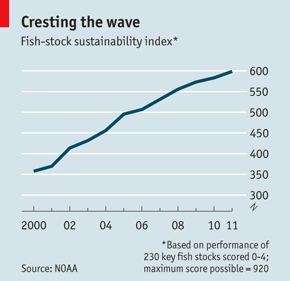 Catch shares as a method of aligning economic and environmental incentives have been a hot topic in the news. The Atlantic published a piece by Jonathan H Adler, a professor of law, entitled "Property Rights and Fishery Conservation" which discusses fisheries as an ideal example of the 'tragedy of the commons' where introducing concepts of property rights are a smart solution. He writes, "The creation of property rights in an ecological resource not only creates incentives for greater resource stewardship, to conserve the underlying value of the resource today and into the future. It also gives those who rely upon the resource a stake in the broader set of institutions that govern the resource." He asserts that traditional fishery management has failed world fish stocks and that catch shares are scientifically proven to rebuild the resource and protect the fishermen in the future.
Another story in the Economist entitled "Plenty More Fish in the Sea: Sensible Policies are Working" drew on the recent NOAA stock assessment for proof that utilizing smarter management and paying attention to science has rebuilt a record 6 fish stocks this year. This story gives a history of management that has failed fish stocks and urges Congress to keep catch shares as a management tool. "On May 9th the House passed legislation forbidding NOAA from developing an innovative means of apportioning fishing quotas, known as catch shares. These are long-term, aiming to give fishermen a stake in the future of their fisheries; market-based, since they can be traded; and, in practice, good for fish."
Catch shares need to be carefully designed and are not a 'silver bullet' for all fisheries, but they should be kept on the table as an innovative tool that can help fishermen and fish populations. Decisions about fishery management should be made by Regional Councils, not Congress.