Passionate. Dedicated. Those words describe each of the professionals in the Oceans program at Environmental Defense Fund. Our team is comprised of knowledgeable people with a wide range of experience in fisheries, marine sciences and oceans policy. This series of interviews with some of our staff offers a look into their backgrounds and work in oceans conservation and fisheries management.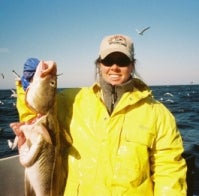 Kate, what do you do at EDF?
I manage the Catch Shares Design Center, which helps communities and fishery managers identify the best options as they are designing catch shares.
Catch shares aren't one-size fits all, and should be tailored to each fishery. There have been hundreds of catch shares implemented across the globe. Most have been very successful. It's our job to look at what works, what doesn't and share that knowledge with communities that are getting ready to transition to catch shares. I've spent the last year and a half working on the Catch Shares Design Manual, which lays out a roadmap of how to develop a catch share program and the various options that are available. 
I also serve as a matchmaker between the communities and fishery managers designing catch shares and the experts who are involved in successful catch shares and have a great deal of experience to draw from, like fishermen, scientists, economists and fishery managers worldwide.
What were you doing at EDF before you started working on catch shares?
One of my first assignments was to interview fishermen up and down the West Coast to gather and incorporate their valuable knowledge, such as important spawning areas, into policy discussions. When I talked to the fishermen, it was clear that traditional fishing regulations were working against them as they struggled to provide for their families and be good stewards of the oceans. I see catch shares as how we can bring back our fisheries and also keep fishermen out on the water.
Didn't you help get loans for fishermen interested in conservation?
Yes. I helped establish the California Fisheries Fund which gives fishermen low-interest loans to move to sustainable fishing practices. I helped raise $5 million dollars for the fund, including $2 million from the State. I got to know many fishermen through that effort, including one who still regularly invites me to family dinners where he serves the delicious Dungeness crab he catches.
What did you study in school?
I grew up in the San Francisco Bay area and decided to stay close to home for school, so I went to Stanford for both undergrad and grad school. My Masters degree is in Earth Systems with a focus on marine conservation. I spent a few months at Stanford's Hopkins Marine Station in Monterey on boats and underwater studying the marine life there.
Why did you decide to work on fishery issues?
Every summer when I was a kid my family visited relatives on Whidbey Island in the Puget Sound of Washington state. We went crabbing and clamming all the time. Being on the water was paradise for me. Years later in college I jumped at the chance to take a class on fisheries and it really showed me just how solvable many of the problems facing fisheries are. I decided to apply for an internship at EDF's oceans program and I'm still here years later.  
What don't most people know about you?

I love planning parties for my friends and family. I've thrown more birthday parties, engagement parties and baby showers than I can count. Most people don't know that I love open water swimming. I swam from Alcatraz to San Francisco in 40 minutes, and I'm training to swim 3 miles with my mom in Donner Lake in the Sierras near Tahoe.