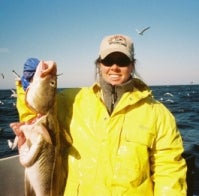 I was hoping the Pew Environment Group's new report, Design Matters: Making Catch Shares Work would provide some good information about how to design catch shares, but instead I found it over-simplistic,  somewhat confusing and lacking any new insight into catch shares and effective design.  Just about everyone agrees that catch shares can and should be designed for the unique needs of fisheries and the communities that depend on them. 
EDF has been working on catch share design for years, and recently released a 100+ page draft of a Catch Shares Design Manual that outlines a roadmap for designing catch shares based on experience from around the world.  (After an open peer review is done, we'll finalize the manual.)  I agree with the title of Pew's report.  Design of catch shares does matter.  It matters a lot. 
The overall feeling I left with was that Pew is comparing catch shares to an ideal world that doesn't exist rather than to the reality of current management.  The report identified many issues that traditional management hasn't solved, and makes the case that catch shares should solve all of those problems. 
The good news is that catch shares generally do make progress on those problems—and as they are adjusted over time they get even better.  These include setting an accurate, science-based cap, establishing an appropriate monitoring and enforcement program, managing multiple species, reducing bycatch and habitat destruction, and compensating fishermen who are caught in a system that has led to over-capitalization.
Pew is right that these are tough problems for fisheries, but they neglect to mention that catch shares are better at achieving positive outcomes than nearly any other management approach currently in use.  For example, Pew says:
"In some fisheries, improvements were more likely the result of hard TAC limits than an IFQ system." 
What they failed to mention is that not only are catch share fisheries more likely to have a hard catch limit, but fishermen are also far more likely to stay within the identified catch limits.  And, the science behind those catch limits is also dramatically better than it was before catch shares were implemented.  In short, catch shares lead to more accurate science-based catch limits and fishermen who come in below catch limits, 5% on average. 
What amazes me is that under catch shares fishermen have not only stuck to their catch limits, but for the first time they have lobbied for tighter limits to allow fisheries to recover faster.  Compare this to traditionally managed fisheries where setting a catch limit is often controversial, cutting it is even more so, and the limits are often exceeded.
The report also highlights the need for effective monitoring and enforcement.  I agree that this is a key component to ensure the health of our fish stocks.  But this is true for ALL fisheries, not just catch shares.  Catch shares offer the opportunity to instill greater accountability into the fishery, and in fact, this is a vital component of most programs.  Catch shares are the only approach that holds fishermen individually accountable to stay within catch limits.  Fishermen get flexibility on when and how to fish—and they meet their targets.
Pew also notes the high cost of administering some catch share fisheries, highlighting this as a concern.  Much of this price tag is due to monitoring and enforcement, which is something that should be there regardless of whether a fishery is under a catch share. 
Because catch share fisheries are more profitable than traditionally-managed fisheries, they are uniquely able to pay the costs of management.  Whereas most fisheries management costs are currently covered by taxpayers, catch share fisheries can and do pay more of the costs.  Research shows that per boat revenues increased by 80% after catch shares were implemented. And as they get more profitable, fishermen's costs go down.  I doubt that most traditionally managed fisheries could support the same level of monitoring as catch share fisheries. 
Jobs are another common theme in the report.  When the nation first started exploiting our fish resources in the 60s, 70s and 80s, fishing jobs were plentiful and often lucrative.  However, as fish stocks declined, regulations tightened and other industries started competing for waterfronts.  Add to that an influx of imported fish and the result is a steep decline in fishing jobs.  Unfortunately, if overfishing continues and stocks remain dangerously low, jobs will only continue to decline. 
Catch shares do cause fishing jobs to change, and when you look at the number of active permits, there is nearly always a decline. But that is not the complete story.  Not only do numbers of jobs change, but the quality of jobs also changes.  Part-time, seasonal jobs generally give way to more stable, more profitable, safer, full-time jobs.  And there is anecdotal information that people who stay in the fishery make better wages too. Up to 100% better in the Alaskan crab fisheries and 44% better in the British Columbia fishery (GSGislason 2008). 
I don't minimize the impact of losing a part-time job, but I also acknowledge that the people that remain have much better jobs.  And what is hard to evaluate is what would have happened to jobs without a catch share.  Unfortunately, increasing regulations to prevent overfishing and rebuild stocks are also likely to negatively impact jobs, just as happened over the past few decades.
Over-capitalization and concentration is another issue.  On the one hand, Pew says that catch shares are effective at reducing overcapitalization and on the other says that catch shares can cause excessive consolidation.  So, what is the right number of boats for any fishery?  That should be decided by each fishery based on what it is going to take to keep those fishermen in business.  What is beneficial about catch shares though, is that those who choose to leave the fishery can generally do so with compensation.
Recreational fishermen are mentioned in several places in the report.  To me the key point is that catch shares for the commercial fleet are good for recreational fishermen—as the commercial side meets their targets it will make the resource healthy for everyone.  I agree with Pew that catch shares can work for charter boats.  It's a tough problem though in figuring out how to improve the rules of the game for millions of recreational fishermen so that they can have better access to the oceans. 
The current approach of short seasons and closures might work—but they are hard on recreational fishermen and the businesses that depend on them.  I hope that the government comes up with some ways that allow recreational fishermen to get longer seasons and still meet conservation goals.  The answer might not be catch shares, but I am optimistic that there is an answer out there.
I liked the report's approach of using case studies.  However, there is some important information left out that I would like to explain.
The report said the red snapper stock is currently overfished and overfishing is occurring.  What they failed to mention is that the problem is not coming from commercial over-fishing.  In the first two years of the catch share program for the commercial sector, reported landings have been below quotas, whereas during the 17 years of managing with a TAC and input controls, the commercial quota was exceeded nine times.  On the other hand, the management for the recreational sector is not working yet.  While most recreational fishermen undoubtedly follow the rules, the recreational catch is still way over its quota, perhaps by as much as 13.5% in 2008.
Pew also said there was significant consolidation in the Surf Clam/Ocean Quahog fishery.  If you look at the number of vessels in the fishery, that is true.  However, when you look at the more accurate number of owners in the fishery, you see there was only an 11% decrease in the number of owners from implementation in 1990 to 1999.  This reflects that fact that prior to the IFQ, owners had the incentive to invest in more and more boats and gear to get around constraining regulations and after the IFQ, they were able to get rid of excess capacity.  And when you consider that these are dredge vessels that have significant impact on bottom habitats, reducing vessels is a conservation benefit.
The authors also discuss the Bering Sea Aleutian Island Crab Rationalization and the controversial Individual Processing Quota (IPQs).  Interestingly, the IPQs were implemented largely to protect community interests.  I agree that IPQs should be closely studied for whether they actually achieve that goal, but it just goes to show that good design does matter.  Furthermore, Pew highlights that there was an estimated loss of 1,200 jobs from 2004-2006.  However, they fail to mention that the same report also says "the loss in crab fishing jobs was approximately offset by the increase in days worked per job.  Thus the effect of crab rationalization was that a much smaller number of people worked at jobs which lasted a much longer period of time, and did about the same total amount of work in about the same total number of days."  (Knapp and Lowe, 2007).   Not only did the crew who stayed in the fishery have more stable jobs, but their incomes also increased, about 100% in the red crab king fishery compared to pre-catch share levels and 60% in the snow crab fishery
In terms of the environmental performance of catch shares, the results are clear.  Catch shares outperform all other management systems.  Over the years, we have learned to deal with some of the early environmental concerns– such as allocating percentage shares, rather than pounds and figuring out how best to deal with multi-species fisheries– but experience has shown that these have been mostly ironed out.  In fact, Pew highlights how well the British Columbia Groundfish IVQ manages multiple stocks with varying abundance. 
What the authors speak about most frequently is the social impact of catch shares.  How do communities fare and what about jobs?  These are critically important issues.  The bottom line is that without fish, there will be no fishing communities or fishing jobs.  Catch shares are the best approach to ensuring robust, healthy fish stocks. 
So then the question becomes, how to design catch shares to meet community needs.  As Pew points out, design matters.  Design is a series of choices that need to be made for different fisheries and different goals.  The choice of how to allow leasing is a great example.  Leasing occurs because it is hard to imagine how to run an effective system without mechanisms for flexibility.  The thing you get with catch share design is dials to control the degree of flexibility.
Fisheries that want to preserve the historical structure of the fleet and promote specific communities, like the Alaska Halibut and Sablefish fisheries, limit leasing based on geography, historical participation, and active engagement in the fishery, with largely beneficial results.  However, a fishery that wants to encourage lots of flexibility and the ability to increase economic value, such as the New Zealand system, allows more leasing and minimize trading constraints. 
The hard part about design is determining how all the choices will add up and what effects, both positive and negative, they will have.  But the answer is not to discount catch shares, but rather to think critically about how best to design a comprehensive system to achieve each fishery's unique goals.  And of course, these choices should be reviewed over time to ensure they are meeting the goals of the fishery.
Well-designed catch shares offer hope for fishermen, fishing communities and for the health of the ocean.  Scientists are finding that catch shares make fisheries stable over time, and are more effective at rebuilding fish stocks—which helps fishermen and the oceans.  I agree with the Pew report that catch shares can and should be designed to promote a variety of community goals by engaging fishermen in picking the right designs, but I am left looking for practical answers to these tough questions.