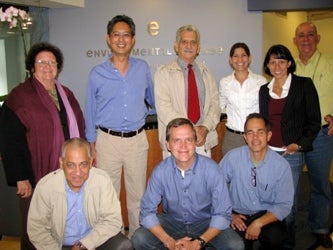 Last week marked the beginning of a sea change in U.S. and Cuba cooperation on the environment. Our Oceans team invited and secured visas for a delegation of Cuban scientists to come to the U.S. for meetings with EDF and other partners. EDF has been working in Cuba for almost a decade to protect coral reefs, conserve mangroves and other vulnerable coastal ecosystems, and to conduct scientific research with our Cuban partners.
During this historic visit, EDF staff and our Cuban guests discussed future opportunities to collaborate, both in Cuba and the U.S. Of paramount importance are new projects aimed at protecting and sustaining fish populations and other shared resources in the Gulf of Mexico, northern Caribbean, and Atlantic.
Staff from our Climate and Air program and Land, Water and Wildlife program made presentations on their work and initiated discussions on possible collaborations on climate change and agricultural runoff. On Friday, the delegation traveled to Sarasota to meet with scientists from the Mote Marine Lab. Scientists from EDF and Mote are involved in a tri-national collaboration on marine sciences and conservation with our partners from Cuba and from Mexico.
Despite years of political separation, Dan Whittle, director of EDF's Cuba Project says, "The environment knows no borders, and the resources we share are so important. We see the environment as the one issue that can bring the two countries together."
Denise Stetten, manager of the Latin America and Caribbean Oceans Program at EDF says, "The spirit of the meetings was extremely positive and several important projects for collaboration emerged. We will be sure to follow through with those ideas and continue to build on our foundation of cooperation."
News coverage of the visit: