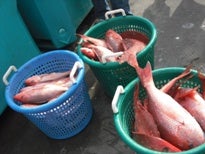 When the largest paper in Texas (.42 million readers) puts catch shares on its front page, you know it's worth talking about. This Saturday the Houston Chronicle wrote an article titled "Catch and Relief: A new share system for fishing red snapper in the Gulf appears to benefit anglers, as well as the species suffering from overfishing."
The story features commercial fisherman Buddy Guindon, who also owns Katie's Seafood in Galveston, TX. He owns quota in the Gulf of Mexico's commercial red snapper individual fishing quota (IFQ) program, a type of catch share.
An interesting excerpt:
"At first, the concept of individual shares so worried Guindon that he sold one of his two seafood markets as a pre-emptive move. Two years later, Guindon said he is catch half the fish but making more money. The new system allows him to reduce expenses because his boats can take longer and more fuel-efficient trips while increasing revenue by fishing when the Gulf is safe and dockside prices are high."
Check out the full story.