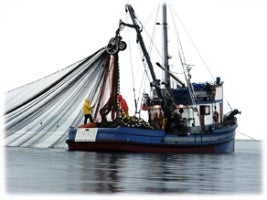 Just last week our fisheries policy guru, Shems Jud, attended the Pacific Fishery Management Council meeting in Spokane, WA.  After a six year process, this meeting was the last opportunity for the Council to develop and decide on unfinalized components of the Individual Fishing Quota (IFQ) or catch share program for the trawl sector of the Pacific Groundfish fishery.
A few positive highlights to report from the meeting:
Most importantly, implementation of the program will not be pushed back and is still on track for the target date of January 1, 2011.
The precedent-setting Adaptive Management Program (AMP), a tool that promotes social, economic and conservation goals by pro-actively dedicating ten percent of the fish quota to a "public trust" like pool, will be implemented in year three of the program.
The carry over provision—which works like a cell phone plan's roll-over minutes, but for your fish quota—will remain in the fishery's management plan.
The program is nearing the finish line now after more than a five year stakeholder design process. Last November, the Council made a historic decision by voting unanimously for a catch share management system in the groundfish trawl sector, one of the four major sectors of the fishery.  Instead of managing just a single stock, this complex catch share will manage the largest number of species of any fishery in the U.S.  In addition, there are unprecedented features to the program, including the AMP and providing for fishermen to fish their quota using other gear types.
Next Steps?  NMFS still has to draft a regulatory package that lays out the specifics about how the catch share will actually work.  This proposal will be reviewed by the Council in September in a process called "deeming".  In the coming year, the three West Coast states will work with NMFS on making sure the new infrastructure and staffing are in place in preparation for the fishery to transform to catch shares on time by 2011.  And finally, this landmark decision will need the signature of Gary Locke, the Secretary of Commerce.