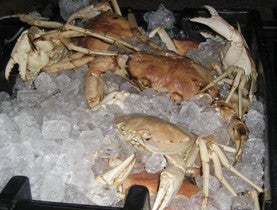 For the past 10 years Doug Rader has worked with golden crab fishermen to protect deepwater corals off the South Atlantic coast.  Between formal Fishery Council meetings and hallway conversations, a compromise of allowable fishing zones will keep golden crab fishermen fishing and deepwater corals out of harms way. 
The golden crab industry has a history of being advocates for strong management.  In 1995 it was the golden crab fishermen that petitioned for a fishery management plan and a limited entry fishery. Now with the deepwater protections on the verge of being adopted, many in the golden crab industry are looking to catch shares management as the next step for maintaining a healthy fishery. 
Enter EDF staffers Eileen Dougherty (me) and Sarah Hagedorn.  Starting about eight months ago, Sarah and I answered golden crab fishermen's call to be educated on catch shares.  Through many exchanges of information, Sarah and I learned about the fishery and fishermen learned about catch shares management.  I helped fishermen understand how catch shares work and are designed and Sarah worked with the fishermen on the science behind catch shares and on defining an appropriate annual catch limit for golden crab.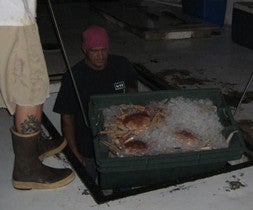 What are the results of all this cooperation?  The South Atlantic Fishery Management Council heard fishermen's request to develop a golden crab catch shares program and are tasking the industry with taking the first crack at the design.  Golden crab fishermen in return are looking to develop a collaborative process by which they can work together, with us, and Kate Quigley, the South Atlantic Council staff economist to craft a catch shares program that will meet their needs and continue the legacy of conservation and stewardship they've established.  I look forward to continuing our work with the golden crab industry and am glad I've played a part in this lesson of catch shares cooperation.