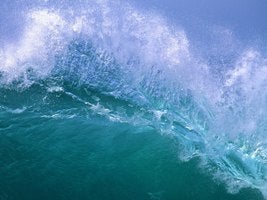 Ocean energy is a new frontier in efforts to meet the world's ever increasing need to develop renewable energy sources. Last week, Mark Powell over at Blogfish raised the question of whether or not we should consider ocean energy. Environmental Defense Fund confidently says yes. The question with ocean energy is not whether the technology should be developed, but how it should be developed.
The oceans are a huge source of renewable energy, and could produce up to 10 percent of current energy demand. Most areas of the country would benefit: we could see wave parks off Oregon and California, tidal turbines spinning in Maine, Alaska & Washington, and efforts to harness the Gulf Stream off Florida. Those same technologies could also produce dam-less hydropower along the Mississippi River.
But, there are still a lot of things we need to figure out – like what the potential environmental impacts are and how to regulate the industry to ensure public input and transparency. Also, developers will need to be granted licenses to test and perfect their technologies. In an effort to push that process forward, EDF last year assembled a working group of utilities, energy developers, environmentalists, academics and local governments.
Our vision was to work together to find a common path for the environmentally responsible development of ocean energy, and to avoid the litigation-driven battles that have so often hampered other new forms of renewable energy. If we are going to solve the climate crisis and create a clean energy future, we have to come up with positive, forward-looking solutions.
In this spirit, our group made a number of recommendations to the incoming Obama administration back in November for how to proceed on ocean energy. They can be found here: Shared Vision and Call for Action.
The good news is that the administration has already moved forward with some of these recommendations. In just the last few months, some significant strides have been made:
Two government agencies – the Federal Energy Regulatory Commission (FERC) and the Minerals Management Service (MMS) of the Department of the Interior – have settled a long-running dispute over how they will regulate ocean energy.
Interior Secretary Ken Salazar has committed his department to facilitate the development of renewable energy on lands and waters under its control.
MMS issued new regulations that will govern leasing of the ocean for renewable energy.
In the 2009 budget, Congress quadrupled the funding for the Department of Energy's program aimed at advancing wave and tidal technologies (from $10 million to $40 million).
Finance experts have indicated that this regulatory progress may be leading to more financial deals for ocean power companies, which have been hampered by the credit crisis as have most renewable energy sectors.
In the near future, some important events are expected:
Ocean Power Technologies, a private company, is set to sign a groundbreaking FERC settlement agreement this month with stakeholders for its Reedsport, Oregon wave park, which will become the first commercial ocean energy project in the U.S. next year.
Our working group will suggest a joint agency rule-making process for addressing a number of unresolved issues, including creating a unified environmental review process, defining the role of other parts of the federal government, and facilitating pilot projects. 
Congress may consider legislation to design a comprehensive planning process that can designate appropriate areas for renewable energy development.
It's an exciting time for this new wave of technology, and EDF is proud to once again be on the leading edge of efforts to create a new, clean energy future.