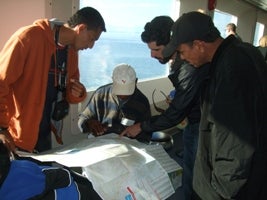 Several times a year, EDF takes a delegation of fishermen, policy makers and other leaders in the ocean conservation community and fisheries industry to British Columbia to see, first hand, an effective catch shares program at work. Last week, Larry Epstein, Ayelet Hines, Michael Clayton, and Nicanor Requena of the EDF Oceans program hosted a delegation of fisheries stakeholders from Belize on an international exchange to visit the B.C. groundfish fishery.
The delegation included Minister of Agriculture, Fisheries, and Cooperatives Rene Montero; Minister of Human Development and Social Transformation Peter Eden Martinez; Fisheries Administrator Beverly Wade; and Coastal Zone Management Authority Chief Executive Officer Vincent Gillett.  Fishermen leaders of cooperatives and associations, and representatives of Belizean conservation NGOs also participated in the exchange.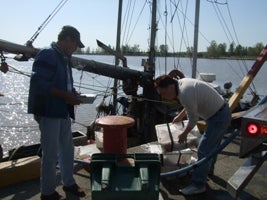 Some of the fisheries managed by catch shares in the B.C. groundfish fishery have increased in value ten-fold as a result of healthier and improved fish stocks and habitat. During the conversations among B.C. and Belizean government managers, fishermen, and conservationists, the delegation learned how the B.C. catch share evolved and discussed lessons learned. In addition, the delegation visited the catch shares monitoring facility and observed the process of assessing and recording the catch at a dockside offload site.
Sparking significant enthusiasm for catch shares, the exchange furthered conversations around a range of opportunities for EDF and its partners to engage the Belizean government and fishermen in the implementation of the Mesoamerican Reef Sustainable Fisheries Initiative in Belize. The initiative seeks to implement the use of catch shares in Belize as part of a larger ecosystem-based fishery management strategy.