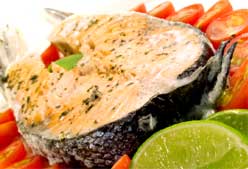 Last week, as part of its 25th anniversary celebration, the Monterey Bay Aquarium's Seafood Watch program released a report entitled, "Turning the Tide: The State of Seafood." It outlines the challenges and opportunities facing the global seafood industry, and how consumers, businesses and policy makers in North America can make a difference in the health of our oceans.
 
One piece of the report that was covered extensively, was the creation of a "Super Green" list of seafood choices, which are both fished or farmed responsibly AND good for your health. I worked with the Aquarium over the last several months to develop and refine this list based on EDF's extensive research on the topic. Here are the best choices that we identified:
Albacore Tuna (from the U.S. or British Columbia)
Mussels (farmed)
Oysters (farmed)
Pacific Sardines
Pink Shrimp (from Oregon)
Rainbow Trout (farmed)
Salmon (from Alaska)
Spot Prawns (from British Columbia)
A second tier of good choices with slightly lower, but still beneficial levels of omega-3s includes Arctic char, farmed bay scallops, U.S. crawfish, Dungeness crab, U.S. longfin squid, and longline-caught Pacific cod from Alaska.
 
Too often the debate around this issue is portrayed as black and white – either that all seafood is healthy and should be consumed whenever possible, or that it's all contaminated and we should get our omega-3s from sources other than fish. Well we now know that that doesn't have to be the case. You can still enjoy the health benefits of seafood consumption, while minimizing your exposure to contaminants and supporting responsible fisheries and aquaculture operations. Now that's a win-win for everyone.
 
For everything you could ever want to know about your favorite types of fish (including fishing/farming practices, biological information, nutritional content, recipes and consumption advisories), visit EDF's Seafood Selector. And for up-to-the-second information on all things-fish related, follow me on Twitter @hawaiifitz.