Kristen Honey is a Stanford Doctoral Candidate and the current Lorry Lokey Fellow at EDF.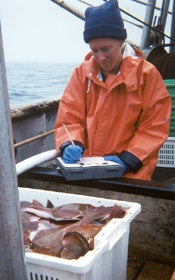 Effective and efficient fisheries management is often limited by available information and the high cost of marine data collection and analysis. Regardless of information gaps, management decisions still need to be made. Common challenges exist because too little is known about fish populations and their dynamics, the spatial distribution of fishing harvest, or monitoring and enforcement of regulatory standards.
Environmental Defense Fund (EDF), the Gordon and Betty Moore Foundation, and the Walton Family Foundation co-sponsored a 3-day workshop at the National Center for Ecological Analysis and Synthesis (NCEAS) in June 2009 on novel analytical approaches to meet these challenges. The workshop, entitled "Analytic Innovations in Minimum Information Fisheries Management", convened 25 experts from around the world to present and discuss innovative research related to challenges in fisheries management.
Workshop organizers included Chris Costello, Steve Gaines, and Sarah Lester from the University of California, Santa Barbara (UCSB). The efforts of this workgroup build on prior collaboration and work with the team at UCSB, including Costello and Gaines, who co-authored a study on the viability of catch share programs for halting or reversing fisheries decline.
On behalf of EDF, Diane Regas (DC), Kristen Honey (SF), and Dick Allen (consultant) joined the working group. Collectively, there was a blend of resource economists, marine ecologists, fishery scientists, and applied practitioners (full participant list).
The NCEAS workgroup highlighted applied solutions for fisheries managers, particularly for regions with limited access to fisheries data. Workshop participants discussed recent advances in fisheries management with information constraints. Discussions and individual presentations covered a variety of topics with special emphasis on: 1) spatial management approaches, 2) incentive-based management, 3) stock assessment and management under uncertainty, and 4) multi-species management.
EDF is currently following-up on the workshop's outcomes, in collaboration with UCSB partners, and we aim to ensure that outcomes are shared widely for improved on-the-ground fisheries reform. Future work may potentially involve a second follow-up meeting for the workgroup and scientific talks on these topics at the 2010 AAAS Annual Meeting. Contact Kristen Honey at khoney [at] edf.org for additional information.