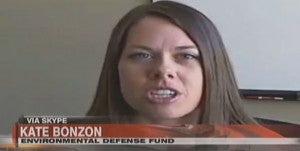 Kate Bonzon, Director of EDF's Catch Share Design Center, recently appeared on the "Down to Earth" segment of KION Central Coast FOX News to discuss the serious issue of overfishing and the value of fishing smarter, not harder.
"The problem in the past is that regulations have actually worked against fishermen because their incentive was to go out and fish as much as they could, as fast as they could," said Bonzon who leads our research on designing sustainable fishery management programs.
Bonzon was joined on the program by Joe Pennisi, a third generation West Coat fisherman who catches groundfish and David Crabbe, a Pacific Fishery Management Councilman and longtime commercial fisherman. Pennisi fishes smarter, not harder under a sustainable fishing program called catch shares. The West Coast catch share program gives him a secure privilege of the total catch and the ability to trade or sell their quota. And with this privilege, he has the time and flexibility needed to operate a more efficient and profitable business.
"If for some reason I have a break down, or maybe there is a lot of bad weather, I can trade some of my fish on the auction side, the other fishermen can buy it and they can trade with me," explained Pennisi.
Watch the news program or visit our Catch Share Resources page to learn more about how these systems are restoring the world's fisheries back to health.