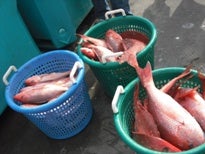 The Gulf of Mexico red snapper individual fishing quota (IFQ) program – one type of catch share – is again earning high marks for its conservation and economic benefits.
The National Marine Fisheries Service (NMFS) has published three annual updates of the program, with the latest concluding that the red snapper IFQ is meeting its main objectives. A recent stock assessment also concluded that long-standing "overfishing" of red snapper is finally ending.
Tangible Conservation, Economic Progress
Commercial overfishing is reversed and catch limits are climbing.
After recent deep cuts in catch, commercial fishermen were rewarded this year with a more than 30 percent increase in catch in response to the positive stock assessment results and effective management.
Far fewer dead fish are thrown overboard.  
Scientific analyses conclude that 70 percent fewer fish are being thrown overboard under IFQs across the Gulf. The latest report highlights that in Texas and Louisiana, which accounted for over half of the '09 landings, fishermen discarded just one fish for every 15 they kept.  This is a huge improvement over pre-IFQ management when, gulf-wide, fishermen threw back about one fish for every one kept.
Fishermen are leaving more fish in the water to reproduce.
Not only are fewer fish thrown overboard, fishermen have left about three percent of their quota in the water for the past three years.
Businesses have an opportunity to turn a profit. 
With year-round fishing and stability, fishermen bring high quality fish to the dock when consumer demand is high. Fishermen now have flexibility to tailor the catch to market needs and organize fishing trips to minimize costs.  Fishermen say their costs have dropped by 50 percent or more and data show they are earning 25 percent more for their fish at the dock.
The value of the fishery is rising. 
The rising value of the privilege to catch red snapper represents growing benefits to Gulf communities and reflects optimism for a healthy fishery, stable management, and a commitment to conservation.  
Opportunities for Improvement in the 5-year Review
With 2011 around the corner, a milestone for IFQ program is approaching: The start of a 5-year mandatory performance evaluation.
All federal catch share programs are reviewed at the 5-year point to evaluate progress toward goals and identify needed improvements. This is also an opportunity highlight the region's most significant management successes – and national model – and to fine-tune the plan and ensure on-going benefits to the fishery, industry and communities.
One thing is clear going into the review: the IFQ program is working and should be continued. Additionally, there are two key areas in which the program can be improved:
Continue to improve enforcement and monitoring

Ensure standardized, accurate reporting of ex-vessel prices by fish dealers.  This is important in part for collection of cost recovery fees.
Improve the online IFQ reporting system so that it reconciles with other landing records data.
Ensure compliance with the six percent cap on holding IFQ shares.

Reduce red snapper discarding even more

Eliminate the minimum size limit to reduce size-related discards.
Better integrate eastern Gulf fishermen into the IFQ program (This region received little initial allocation of shares because red snapper had been fished out of the area until recently).
Create a full-retention fishery where all fish caught are counted toward each fisherman's quota, and tracked by camera, to eliminate all waste that lessen the value and recovery of the fishery.
A Successful Model for Struggling Fisheries
The red snapper IFQ has already served as a model for Gulf commercial fishermen who voted to add 20 grouper and tilefish species into the IFQ program in 2010. Conservation and economic benefits will further improve if all commercial reef fish are incorporated into the program.
Regulators and commercial fishermen who target highly migratory species, like sharks, are also considering how catch shares might help them improve fishing, reduce wasteful discards, and boost profits.  Finally, catch shares could also be applied to struggling Gulf charter operators to give these fishermen an opportunity to plan their businesses and far better meet the needs of their angler clients.