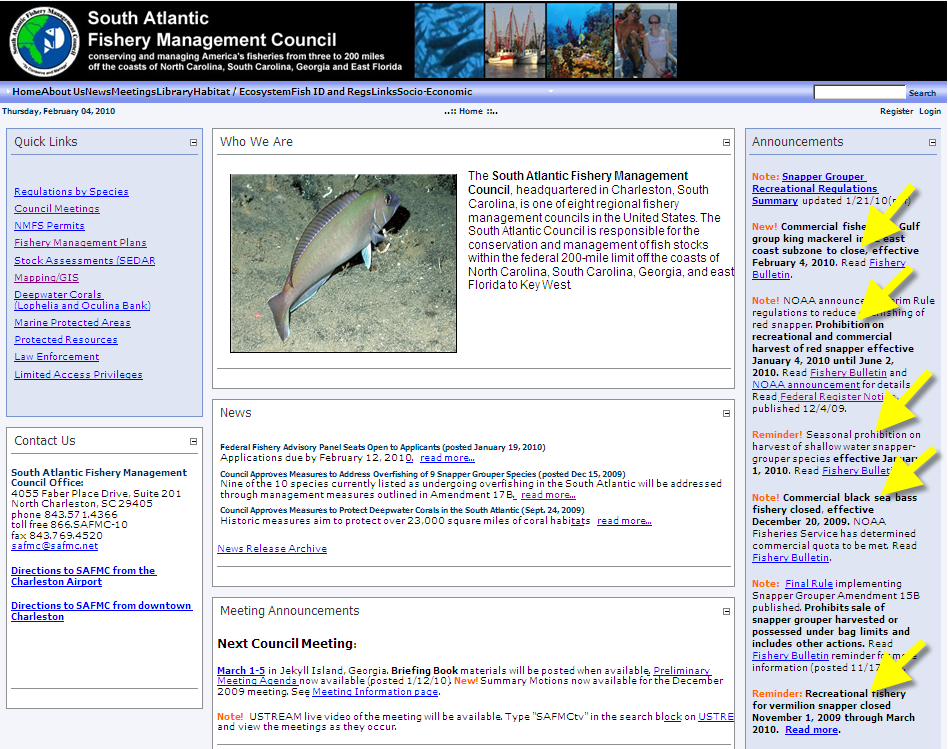 I recently spent a few hours taking stock of how our Nation is doing, using traditional approaches to fisheries management. My conclusion: not very well. As of December 31st, sixty federally managed fish stocks and stock complexes (containing an additional twenty species or so) were either overfished, being over fished, or both. That doesn't even count the stocks for which the scientific information is so poor that we are "flying" blind or, many important but overfished non-federal stocks.
Take a look at the homepage of the South Atlantic Council's website (to the right). It shows closures for most of the "money fish" in the region – king mackerel, black sea bass, vermilion snapper, red snapper, groupers, and most of the other shallow-water reef fish. The costs of business-as-usual to commercial and recreational fishermen, fishing families, coastal communities, and coastal economies is staggering . . . not to mention to ocean ecosystems.
Thankfully, there is a better way — catch shares. While there are no silver bullets that will fix these fishery problems overnight – the problems been decades in the making – catch shares are the clear solution. You can read more about how to design a catch share at EDF's Catch Share Design Center.