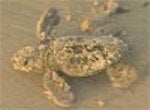 Earlier this summer I reported on the revival of the Kemp's Ridley sea turtle, the smallest of all the sea turtles, which I'm happy to report has now had another record breaking nesting year! 197 nests have been spotted along the Texas coast and more could still be discovered, though August typically marks the end of the turtles' nesting season. In 2001 fewer than ten turtles were found on the Texas Coast, but in part due to protections that government, industry and EDF and other conservation groups helped win for the turtles, this year marks the sixth year in a row of increased nestings.
A similar trend for this turtle has also been reported south of the border.  In the Mexican state of Tamaulipas, nestings back in 1985 numbered as few as 700 (down from 40,000).  Through Mexican efforts to protect the nesting sites, there are now upwards of 20,000 annually.
Check out a recent news story on how many interests came together to make this recovery a reality and stay tuned for next season!