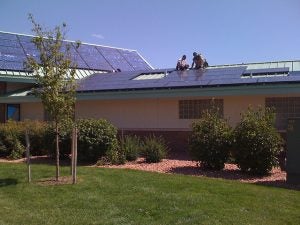 By Rama Zakaria, Graham McCahan
A newly-updated report is shedding light on what President Trump's solar trade tariffs may mean for one state – and underscoring a tremendous opportunity to move forward toward clean energy, with all the benefits it can bring.
Xcel Energy filed its 30-day bid report update with the Colorado Public Utilities Commission on March 1. The update follows Xcel's filing at the end of last year, in response to an "all-source solicitation," as part of its Electric Resource Plan and its proposed Colorado Energy Plan.
Xcel's plan would shut down two units at the Comanche coal plant in Pueblo, Colorado, and replace the capacity with a mix of lower-carbon resources. Earlier results were unprecedented, with more than 80 percent of the bids coming from renewable energy and storage at incredibly cheap prices.
Xcel then provided bidders an opportunity to refresh their bids following President Trump's final decision in the Suniva/SolarWorld trade case in January, which imposed tariffs on imported solar equipment.
The refreshed bids in Xcel's updated report show minimal change relative to last year's results and confirm that new wind and solar power in Colorado continues to be cheaper than existing coal plants – despite the trade tariffs. Read More »