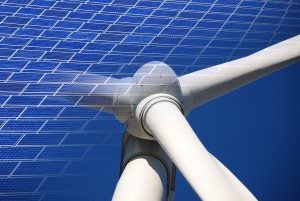 New Jersey's legislature voted on two important bills last week related to the state's energy future. One will boost clean energy like renewables and energy efficiency, create jobs, and cut pollution. The other subsidizes two nuclear plants indefinitely. Both bills passed. Environmental Defense Fund (EDF) enthusiastically supported the clean energy bill, but withheld our support for the nuclear bailout.
New Jersey deserves a clean, healthy, and prosperous future, and we need a plan to make it happen. The clean energy bill is such a plan. The details may be complex, but the result is simple: It prepares the state for the inevitable retirement of nuclear plants by accelerating the adoption of renewable energy and energy efficiency. The nuclear bailout is flawed and wasteful. It should have been fixed.
The downside: A costly nuclear subsidy
S 2313, also known as the Zero-Emissions Certificate (ZEC) bill or the nuclear bailout bill, affects two nuclear power plants in New Jersey.
These plants are owned by Public Service Enterprise Group, Inc. (PSEG) and are struggling to compete with low-cost natural gas and renewable energy. Without the bailout, it's possible they would have been forced to retire early, a prospect that raises legitimate reasons to worry. First is the loss of jobs at these plants. Second is the risk that utility executives would rush to replace these low-carbon plants with fossil-fuel alternatives that increase local air pollution and contribute to global warming.
New Jerseyans must remain diligent to ensure these expensive nuclear power plants aren't subsidized beyond the near-term.
Unfortunately, the ZEC benefits PSEG far more than it does the state or its citizens. Most notable is the lack of a time limit on the nuclear subsidies: The annual $300 million subsidy could go on forever, at least until the plants' licenses expire sometime between 2036 and 2046. It may buy New Jersey near-term assurance that carbon emissions will not increase. But that's a very expensive Band-Aid.
For the record, EDF does not oppose nuclear power subsidies outright and has always acknowledged nuclear energy's low-carbon value. In fact, we recently helped negotiate a landmark nuclear bill in Illinois. But in that case, the Zero-Emissions Credit program was limited to 10 years and paired with a specific agreement to replace the old plants with efficiency measures and renewable energy.
[Tweet "New Jersey's leaders pave the way for a clean energy future"]
The upside: Cleaner air and more jobs
On the other hand, A 3723, known as the clean energy bill, spurs the state's economy, creates jobs, and benefits all New Jerseyans.
The new state Renewable Portfolio Standard (RPS) sets New Jersey on a path to meet 50 percent of its electricity from renewable sources by 2030 and modifies the state's solar program to reflect the remarkable drop in solar energy costs over the last decade. Both of these actions enable more people and businesses to save on energy bills by accessing low-cost energy resources.
Additionally, the clean energy bill creates a community solar program that, for the first time, allows all customers, including low-income and multi-family residents, to benefit from solar power through subscriptions to larger, shared solar systems.
A new cost-effective energy efficiency program will yield large net savings for people by reducing energy demand through such things as better insulation and more efficient heating and cooling systems in homes and buildings. This will save New Jersey families and businesses up to $200 million per year. It will also decrease carbon pollution from electricity by about 350,000 metric tons annually – equivalent to taking approximately 75,000 cars off the road each year. Moreover, scaling the fast-growing energy efficiency industry further, as outlined in the clean energy bill, can more than triple the number of New Jersey residents working in the energy efficiency service sector to over 100,000.
Controlling costs
Cost matters, and the clean energy bill addresses this head-on. It has a strict cap in the first three years that limits the cost of renewables to no more than 3 percent over what we pay today for electricity. After 2022, the cost cap is reduced to no more than 1 percent over what we pay now for renewable energy.
The bill will also stabilize the solar market in New Jersey by increasing the RPS target. Furthermore, by gradually lowering the ceiling price for solar renewable energy credits to reflect the recent declines in solar costs, this bill reduces the overall cost of the current solar RPS.
Within the next 2 years, the New Jersey Board of Public Utilities must establish a process to transition the state's existing solar renewable energy credit program to a more cost-effective model, which better aligns solar incentives with costs.
Looking ahead
Our last governor put up barriers to clean energy and protected polluters. Newly-elected Gov. Phil Murphy has committed to lead New Jersey in creating clean energy jobs and pledged to have 100 percent of the state's electricity come from clean energy by 2050. The clean energy bill helps the state achieve these goals and should be celebrated.
The nuclear bailout, however, is a huge and wasteful disappointment. New Jerseyans must remain diligent to ensure these expensive nuclear power plants aren't subsidized beyond the near-term. New Jersey's health and economic security lies with investing in 21st-century technologies that support the rapid transition to a clean energy economy – not providing funds for an unlimited amount of time to prop up aging, uneconomic nuclear plants.