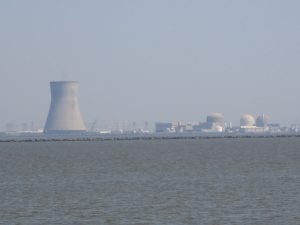 BLOG UPDATE – DECEMBER 20, 2017
PSEG's bill aimed at subsidizing its two aging nuclear power plants was passed out of New Jersey's Senate Environment and Energy Committee and Assembly Telecommunications and Utilities Committee today, December 20. If enacted, this customer-funded bailout would require all New Jersey electric customers to pay $300 million for an unlimited number of years to keep the plants in operation, adding an extra $40 a year to each customer's electric bill.
The availability of low-carbon energy and local jobs are both legitimate reasons to be concerned about the premature retirement of New Jersey's nuclear plants, but a customer-funded bailout is not the answer. A time-bounded zero-emissions credit, tailored to worker protections, community considerations, and a commitment to accelerate the adoption of clean energy should have been considered. Though PSEG admits these plants are profitable, the utility giant still hasn't provided any documentation or analysis to show these facilities are in need of financial assistance.
December 12, 2017 – The New Jersey State legislature is entertaining a lame duck proposal by the Public Service Enterprise Group (PSEG), the parent company of New Jersey's largest utility, Public Service Gas & Electric (PSE&G) to subsidize two PSEG nuclear plants and to have it paid for by New Jersey electricity customers – in other words, a customer-funded bailout.
We don't need a nuclear bailout, especially since the utility acknowledges that its plants are profitable. To approve subsidies for PSEG's power plants during this time would be misguided because the company hasn't provided any proof that their facilities are in need of financial assistance to serve customers or what, if anything, customers would get out of the deal.
Where's the proof?
There is no proof that PSEG needs subsidies. PSEG has refused to release any information or analysis that supports the idea that their nuclear plants are struggling financially. Has PSEG opened its books so independent market analysis can be conducted, or considered how its request will affect people's electricity bills? Has the legislature considered how this will impact clean energy investments, or jobs and economic development? The answer is no.
Who pays for what?
Bailing out these plants would surely pad PSEG's bottom line, but what about the customers who would foot the bill?
PSEG has 2.2 million electricity customers throughout New Jersey. If this bill is passed, customers could pay $350 to $400-million dollars a year within the next 10 years. New Jersey residents and businesses will be ill-served if the focus of this debate remains solely on PSEG's corporate strategy.
To protect customers' interest in the future, we must consider this bailout in context, not isolation. If the bailout PSEG is requesting is granted solely to support uneconomic nuclear plants, how will that impact state investment in other clean energy alternatives like energy efficiency and solar?
How is PSEG double-dipping?
The New Jersey legislature isn't the only venue in which PSEG is seeking a bailout. PSEG was one of a few electric utilities that submitted comments in support of U.S. Energy Secretary Rick Perry's proposed rule currently before the Federal Electricity Regulatory Commission (FERC) to prop up aging coal and nuclear plants, rather than allowing market competition.
Secretary Perry's proposal has attracted nearly universal opposition – from gas, solar and wind companies, Democrat and Republican members of Congress, conservative organizations, environmental and consumer advocacy groups, free-market advocates, and others in the business community. It's not an exaggeration to say the only groups that support the Department of Energy's proposal are those in the coal or nuclear industry who stand to benefit or those lobbying on their behalf. In fact, several utility companies that own fossil fuel assets came out against the DOE proposal because they believe in competitive markets.
Where do we go from here?
Let's slow down. There are legitimate reasons to be concerned about the premature retirement of these plants, including the loss of low carbon-emitting energy sources before the transition to clean energy is complete and the loss of jobs and contributions to the local tax base. But the issues are complex and can't be considered in a rushed lame duck legislative session.
Before the debate continues, and certainly before there's any decision on whether or not to provide subsidies, PSEG must provide proof that its plants are in financial distress, and an independent analysis using all available market data must be conducted.
Moving in favor of PSEG's proposed bailout now would put the state's economy and energy future on the wrong course. These issues are too complex and too important to be rammed through.
Make sure your State Senator and Assemblymember know where you stand. Take action today, and tell them you don't want to pay to prop up PSEG's already-profitable nuclear plants.
Photo source: EaglesFanInTampa at English Wikipedia [Public domain], via Wikimedia Commons