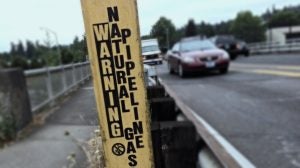 By Erin Murphy and Joe von Fischer
New peer-reviewed research reveals neighborhoods with more people of color and lower household income tended to have more gas leaks. Because natural gas is composed primarily of methane, leaks are a source of climate pollution as well as a health and safety hazard and nuisance to nearby communities. The findings demonstrate why regulators and gas utilities should be open with the public about gas leak information and ensure that leaks in disadvantaged communities are addressed equitably.
What the research tells us
Researchers analyzed gas leak location data in nine U.S. metro areas and found leak densities increased along with the percentage of people of color and with decreasing median household income. Thus, communities of color and low-income populations generally experienced more gas leaks. The study found that average leak density increases by 37% for these populations compared to predominantly white neighborhoods. Leak density — the number of leaks per mile of pipeline — also increased slightly in neighborhoods with older housing infrastructure.