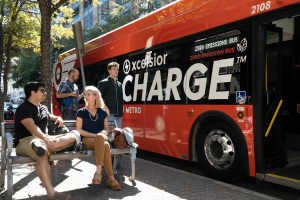 The U.S. is still struggling to contain the spread of COVID-19 and quantify the human and economic consequences of this historic tragedy. But already, leaders are contemplating how we'll restore our economies. Will we rebuild a replica of what we had, or will we invest in ideas that will make society more resilient, healthier, cleaner and more equitable?
The transportation sector is on the cusp of massive change, and one segment within it is ripe for reinvention: medium- and heavy-duty vehicles. These include everything from semi-trucks and delivery vans, to city buses and garbage trucks — the overwhelming majority of which are powered by diesel engines.
Electrifying this segment was an opportunity for lasting change before the COVID-19 economic crash. Now that countries are considering where to invest to rebuild their economies, it's an opportunity we can't afford to miss.