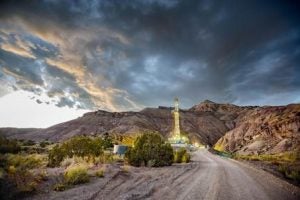 By Nini Gu
Colorado's oil and gas regulators face an important decision that will determine whether the state can continue to successfully cut methane emissions and reach its statutory climate targets.
In 2021, Colorado's Air Quality Control Commission adopted a rule that limits how much greenhouse gas can be emitted per barrel of oil and gas produced. However, the 2021 GHG intensity rule left open the critical question of how oil and gas operators can demonstrate that their emissions comply with the new standard.
Allowing companies to determine for themselves how to measure and report emissions without strong guidance and a requirement to use direct measurement data threatens to undermine the intensity standard and set a bad precedent for other jurisdictions — in the U.S. and abroad — that are looking to implement performance-based standards.
Fortunately, the Air Pollution Control Division is now undertaking a GHG Intensity Verification rulemaking to address this glaring omission, offering the opportunity to create a program based on best-available science and grounded in real and meaningful outcomes.
This GHG Intensity Verification Rule must be accurate, reliable and capable of directly quantifying the volume of real-world methane emissions so Colorado can make informed decisions to protect communities and the climate.
Getting the rule right
The proper use of direct measurement is crucial for the new rule. Current monitoring methods are able to detect emissions but cannot easily quantify the amount discharged, while emissions calculations using conventional bottom-up approaches routinely underestimate the volume of methane released and rely too much on assumptions rather than real-world data.
Trust, but verify: How Colorado must lead as latest methane rulemaking advances
Click To Tweet
New and better technology and methods increasingly make it practical for producers, regulators and the public to form a more complete picture of oil and gas methane emissions in the state — one based on actual emissions detected, not outdated assumptions and estimates.
It is not unlike the Reagan administration's famous approach to nuclear disarmament with the Soviet Union: Trust, but verify.
The Polis administration can lead the nation and the world on this issue, but only by properly incorporating direct measurement into the GHG Intensity Verification Rule.
For the rule to be successful, it must do the following:
Specify direct measurement as a requirement, not merely an option, for oil and gas producers to deploy in their methane monitoring strategy at production sites.
Set tangible and actionable standards to guide operator compliance and facilitate APCD enforcement.
Define what technologies must be used for direct measurement and how. A rule that lacks well-defined minimum standards will place too much discretion on producers to self-regulate and ultimately erode public faith in this effort.
Include a requirement for APCD to revisit this rule at regular intervals and update its standards to reflect contemporary and evolving methane detection and quantification technologies.
Include a requirement for oil and gas producers to regularly re-evaluate their methane measurement and monitoring protocols to demonstrate that their strategies are not outdated.
Retain APCD auditing authority, or at the very least oversight of the auditor certification process with defined criteria for selecting which independent, third-party certifications are acceptable. Clear auditing standards ensure consistency across auditors and show the state's dedication to transparency and accountability.
Tapping federal support
New federal funding is available to states to support effective measurement and monitoring of methane pollution. These resources can help states like Colorado to develop strong programs and achieve their climate and pollution goals.
The Methane Emissions Reduction Program of the Inflation Reduction Act allocates $1.55 billion towards methane monitoring and innovation. The EPA can provide grants to local governments and organizations for methane monitoring, meaning that advanced technologies utilizing direct measurement are more accessible than ever — even as the array of solutions and technologies available continues to grow.
The Polis administration must leverage this opportunity to put in place a GHG Intensity Verification Rule that ensures these technologies are properly deployed at scale. It is the only way to know that oil and gas producers are effectively complying with the GHG intensity targets, and that the state is not at risk of missing its statutory climate obligation. With this rule, APCD and the Air Quality Control Commission can prove that transparent and scientifically-rigorous methane standards are achievable.
Colorado was the first state in the nation to establish methane rules and set a bold example for the entire world, but it's far easier to take a crown than to keep it. The Polis administration will soon show us if it has what it takes to maintain that leadership.
Please submit any comments for the GHG Intensity Verification Rule to APCD at cdphe.commentsapcd@state.co.us by February 28, 2023.