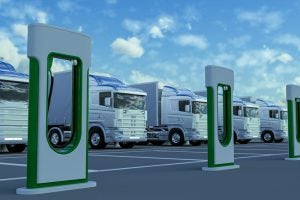 By Pamela MacDougall and Cole Jermyn
After much anticipation, New York is taking a significant step to accelerate the rollout of zero-emission trucks and buses. Last week, the New York Public Service Commission formally opened a proceeding aiming to deploy the charging infrastructure needed to serve medium- and heavy-duty electric vehicles. This is a critical opportunity for the state and its utilities to make real progress towards achieving New York's ambitious climate and truck and bus electrification goals.
New York is already on its way to get these vehicles on its roads and to meet these targets — having adopted California's Advanced Clean Trucks Rule in 2021, which requires auto manufacturers to invest in, produce and sell an increasing percentage of zero-emission trucks. The state also aims for all new school buses to be electric by 2027, with school bus fleets ready to fully electrify by 2035. But to carry these objectives through, regulators and utilities must ensure that there is sufficient charging infrastructure to adequately support the coming zero-emission vehicles.