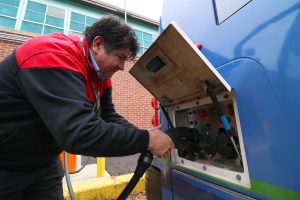 By Elizabeth B. Stein and Beia Spiller
Zero-emission solutions for trucks and buses have arrived. But converting fleets from fossil fuels to electricity requires more than new vehicles and chargers. It will require smart electricity pricing to ensure that new demand from these power-hungry vehicles doesn't break the grid, and that costs remain manageable for fleet owners, utilities and all customers.
Making good use of the grid at times when it would otherwise be underutilized keeps electric rates low for all customers. For passenger vehicles that are charged at homes, pricing structures that encourage charging when demand is low and clean electricity is plentiful have produced great results for car owners, the electric system and the planet.
Getting similar win-win-win outcomes for trucks and buses will be more complex, though achievable with the right policies and rate structures.