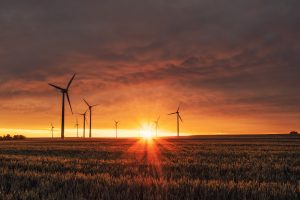 Despite attempts by the Trump administration and the coal industry to limit clean energy in favor of fossil fuels – including a tariff on solar energy, a thinly-disguised bailout for coal and nuclear power plants (that was rightly rejected), and a dramatic proposed cut to energy research – we are accelerating the transition to a cleaner electric grid. In fact, last year was the first time the reduction in power sector emissions can be attributed more to energy conservation and renewable energy than switching from coal to natural gas.
The new 2018 Business Council for Sustainable Energy (BCSE) Factbook* highlights the electric power sector as the driving force behind the decarbonization of the U.S. economy. In total, power sector emissions declined 4.2 percent in 2017, mostly due to the 18.4 GW of new renewable energy we added to the grid (a 14 percent increase over the previous year's total U.S. renewable capacity). In 2017, renewable generation represented about 18 percent of total U.S. generation (around10 percent from non-hydro renewables alone).
This explosive growth further cements renewable energy's role in reducing emissions from the U.S. power sector. Let's dig into the factors that led to this growth, and how we can extend this trend of emissions reductions from renewables beyond 2017.
[Tweet "Clean energy – not natural gas – drove decarbonization in 2017"]
Growing investment, historically low costs
Investment in clean energy worldwide grew to $333 billion in 2017. Despite a 20 percent decline in solar investment – due in part to the uncertainty created by the Trump administration's policy environment – U.S. clean energy investment held steady at about $57 billion, thanks to a 25 percent increase in energy smart technologies investments (e.g. digital energy, energy storage, and electrified transportation).
Renewable energy is also being procured at historically low costs. In 2017, the most competitive power purchase agreements (PPAs) for solar and wind projects were just over $20/MWh and $17/MWh, respectively. Capital expenditures – cost to construct projects from beginning to end – for solar and wind also declined from $1.14 million/MW and $1.12 million/MW, respectively, in 2016 to $1.1 million/MW and $0.99 million/MW in 2017.
Companies have responded to these deep cost cuts by betting on renewables.
Companies have responded to deep cost cuts by betting on renewables.
In 2017, U.S. corporations signed 2.9 GW of renewable energy PPAs – the second highest year on record, according to the BCSE 2018 Factbook. More and more companies are actively seeking out clean energy to power their operations, both for their bottom-line and because it's the right thing to do for the world. The most recent State of Green Business Report highlighted that 71 Fortune 100 companies have a public target for renewable energy, and of these companies, 21 have committed to using 100 percent renewable energy. Further, 125 companies around the world have pledged to meet a 100 percent renewable target through the coalition, RE100.
How do we build on this trend of reducing power sector emissions?
This is encouraging progress, but we still have a long way to go to ensure a resilient, sustainable future. Here are some steps policymakers can take to further reduce emissions, including, but not limited to:
By working on these and other initiatives, clean energy can drive further decarbonization of the power sector and create a more sustainable world. We have a strong foundation – let's build on it.
*This blog post is based on the Executive Summary of the 2018 Business Council for Sustainable Energy Factbook; EDF has not reviewed the methodology contained in the full report.
Editor's Note: To learn more about just how much renewables contributed to emissions reductions in the United States, check out this new study by EDF economists, published in the journal Energy Policy.