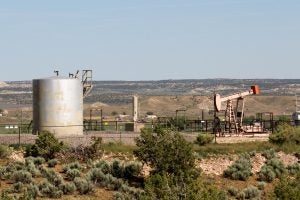 The rhetoric of President Trump and Secretary of the Interior Ryan Zinke might suggest they care about maximizing America's abundant natural resources. However, their actions repeatedly prove the opposite.
Every day roughly one million dollars' worth of American natural gas is lost from taxpayer-owned lands through flaring, intentional releases, and leaks. After first temporarily suspending measures to cut this waste, the Department of the Interior earlier this week proposed 'replacing' them with a measure that will turn the clock back to the 30-year-old rigged system that allows operators to waste this public resource with virtual impunity.
This proposal hurts Western communities
Western states and tribes see the negative impact of natural gas waste in their budgets. Less energy captured means fewer royalties, which go to schools, roads, and other needed infrastructure projects in communities across the West. By greenlighting more unnecessary waste, Secretary Zinke harms Western communities who see less funding in their coffers and have to make hard decisions about which health centers or school supplies to cut back on this year. BLM's own analysis estimates that over $800 million of natural gas will be lost if this replacement rule is adopted.
[Tweet "All pain, no gain: BLM methane rule rollback hurts Westerners, helps no one"]
The original BLM methane rule, which was adopted in November of 2016 and included common-sense and cost-effective strategies to reduce methane waste, has the strong support of three out of four Westerners, including 77 percent of those in Secretary Zinke's home state of Montana.
BLM admits that gutting these standards won't lead to energy dominance
Trump and Zinke love to talk about "energy dominance." One could justifiably assume that the rollback is calculated to boost oil and gas production on federal and tribal lands.  However, the analysis of Zinke's own department finds this revision will lead to just the opposite.
BLM's own analysis estimates that energy production will actually decline as a result of this proposed rule revision, with companies forgoing the production and sale of 299 Bcf of natural gas. That means less American energy in world markets and less royalty income for the American taxpayer and Native American tribes.
This rollback even flies in the face of the oil and gas industry's own efforts to cut waste. For example, XTO, an ExxonMobil subsidiary, recently announced it will continue to comply with the current BLM methane waste rule.
Where are the jobs?
Trump loves to discuss Obama-era regulations as job killers. Now that his administration is coming up with their own plan, will the jobs flood in, especially to small, local businesses? Nope. "BLM does not believe that the proposed rule will substantially alter the investment or employment decisions of firms."
The job trend from this proposal may even be negative; by sending a signal that more waste is acceptable, Secretary Zinke hurts the innovative methane mitigation companies that help oil and gas operators keep more product in the pipeline.
Members of the Trump administration are increasingly getting headlines for abusing taxpayer dollars. Unfortunately, the latest move from the Department of the Interior is more of the same. Secretary Zinke should listen to his neighbors back home and respect our nation's publicly-owned resources by keeping the BLM methane waste rule strong.