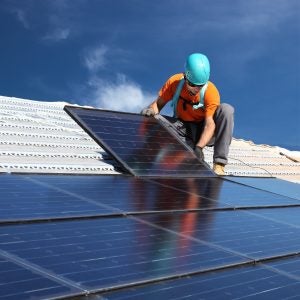 With President Trump's announcement this week to slap a 30 percent tariff on imported solar cells and modules, the solar industry once again finds itself in the firing line, targeted by the political whims of elected officials.
This political posturing has created uncertainty in the marketplace. In the last decade, solar has suffered from seven changes to the investment tax credit. And in the last few months, the industry got a double whammy of the BEAT tax – which will negatively affect equity investments in solar development – and the threat from the Department of Energy's plan to prop up dirty coal while undermining solar. The tariff decision this week – a protectionist attempt by Trump to appeal to his anti-free trade base – is the latest assault on clean energy and a tax on American families, businesses, and utilities who want to go solar. Republicans once considered such actions a "tax on consumers."
Despite these attacks, solar is still booming. Solar Energy Industries Association (SEIA) reports that in the last five years, the U.S. solar industry has attracted more than $100 billion in investment, realized year-over-year growth rates of 21 percent, and now employs more than 260,000 people. The tariff may slow the growth of solar, but it doesn't kill its competitiveness.
This most recent attack started last spring, when two floundering solar manufacturers petitioned the U.S International Trade Commission to take action against foreign competitors, claiming overseas rivals export products to America's solar market at prices they can't match. Ironically, Trump put aside "America First" this week as he agreed with the two foreign-owned petitioners (SolarWorld Americas is a U.S. subsidiary of a Chinese company, while Suniva is owned by a German firm). Fortunately, the companies did not get the steep tariff they were hoping would help revive their bankrupt businesses, but the 30 percent tariff will still hurt the U.S. economy and our climate progress.
[Tweet "Trump kills solar jobs, taxes families and businesses, but he can't kill solar competitiveness"]
Trump's tariff has many losers
American families, businesses, and utilities stand to lose from Trump's tariff, as it will increase solar installation costs. This tariff puts a 30 percent tax on solar cells and modules in the first year, which reduces by 5 percent per year over a four-year period. And though the first 2.5 GW of solar cells the U.S. imports each year will be exempt from the tax, EnergySage Solar Marketplace figures the tariff will increase the cost of a typical home solar installation by $500 to $1,000. Utilities and businesses will get hit harder because they are more sensitive to increases in panel costs, which make up a larger portion of overall project costs than in the residential segment.
The U.S. is estimated to lose billions of investment dollars in solar development over the next four years. Greentech Media Research estimates that solar demand will decrease by 7.6 GW in installed solar PV capacity between 2018 and 2022, which equates to the loss of 1.2 million homes powered by solar. This tariff will have a disproportionate impact on states with newly emerging solar markets, with southern states like Texas, Florida, North and South Carolina among the hardest hit by the tariffs.
The reduced demand caused by Trump's tariff means climate progress will also take a hit. Without the tariff, the U.S. could have avoided between 7.4 million – 17.6 million metric tons of emissions, depending on whether natural gas or coal replaces the solar capacity, according to EDF's analysis. While this comprises only about 1 percent of U.S. power sector emissions, it's equivalent to the emissions of two to four coal plants. Couple this setback with the other recent attacks on clean energy and it's clear Trump's agenda is to obstruct climate progress.
And Trump's solar tax will cause 23,000 people to lose their jobs this year, with tens of thousands each year after, according to the SEIA. Worse yet, Trump's tariff will result in the opposite of what it intends. SEIA warns that this tariff will eliminate, not add to, American manufacturing jobs. Of the 38,000 jobs in solar manufacturing only 2,000 made cells and panels (the subject of this tariff case). This means that the 36,000 Americans who built metal racking systems, high-tech inverters, trackers, and other electrical components will see job losses. (By the way, the two foreign-owned companies that started all of this have not yet made any commitments to create more jobs as a result of Trump's tariff.)
As for the creation of American solar manufacturing jobs, the Department of Energy announced yesterday a $3 million grant to "reassert American leadership in the solar marketplace." While $3 million is not nothing, it is a token gesture compared to what China is investing in solar. In 2017, the U.S. spent about $400 million, while China spent $86.5 billion. (China committed $364 billion for all renewables by 2020 and nearly $780 billion by 2030.) If Trump were serious about reinvigorating the solar manufacturing industry in the U.S., he should have put one hundred – maybe one thousand – times more investment into this effort.
Finally, four years is a short window of opportunity to make manufacturing investments pay off. With threats from China, Mexico, and South Korea to file petitions with the World Trade Organization against the U.S., market uncertainty already exists and is threatening the success of the tariff for the development of a meaningful domestic solar manufacturing industry. Mexico is even seeking action on provisions under the North American Free Trade Agreement (NAFTA). ClearView Energy Partners LLC and other analysts have warned that nations will establish their own trade barriers against the U.S. Even Senate Republicans are against Trump's tariff, as Sen. Roy Blunt (R-Mo.) made clear in his comment to the The Washington Post: "I don't agree with it. I think it's a bad path to head down. The retaliatory tariff fight is never a good fight, and I generally think we need to be more positive about our trade opportunities."
The good news: Solar is still competitive
Even with Trump's tariff, GTM Research expects the industry to deploy more than 10 GW of solar installations in the U.S. this year, and 11.9 GW next year, with continuous growth through 2022.
And many analysts are stating that overseas solar manufacturers will respond by increasing investments in research and development to improve solar panel efficiencies (the percentage of sunlight that can be converted into electrons) as well as manufacturing automation. In addition, these overseas manufacturers intend to accelerate their already aggressive cost-reduction roadmaps. The National Renewable Energy Laboratory reports that from 2016 to 2017, there was a 29 percent reduction in the cost of utility-scale solar panel systems. In an announcement released on Tuesday, participants at a Rocky Mountain Institute event identified an opportunity to nearly halve installed costs with a 20 percent decrease in 2018 alone. This could offset the impacts of Trump's tariff and avoid the anticipated slowdown currently projected.
In addition, a quick run of the University of Texas Levelized Cost of Electricity (LCOE) calculator – keeping all their starting assumptions except for the change in solar costs – indicates that even with the additional costs imposed by Trump's tariff, the LCOE of solar beats out coal in all U.S. counties.
Despite the immediate-term headwinds inflicted by Trump, all signs point to clean, abundant solar power increasingly becoming the energy source of choice for families, businesses, and utilities across the globe because solar is competitive.