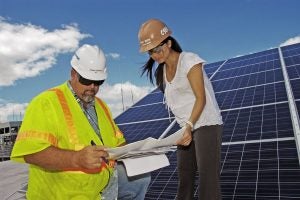 Last Friday, students at UC Berkeley hosted their 8th annual Energy Summit about the future of federal energy policy under the Trump Administration. It was refreshing to hear a respectful discussion — participants from people from private industry, non-profits and business exploring serious solutions — and listening with respect to all sides — including a conservative Trump supporter on a panel with me.
There was a remarkable amount of agreement — which is very surprising in these divisive times. But we should not be surprised: When we get together we can find a lot of common ground. The reality is that most Americans want clean energy and the freedom and prosperity that comes with it. Yes, there is controversy about the future of coal — but there is consensus in our country about the future for clean energy.
Renewable energy created 769,000 jobs last year
We need to be concerned about the families communities have lost jobs the energy industry. The number of coal jobs has been cut in half since 1980, even though the industry produces more coal now than it did 37 years ago. It surprises most people that while production has gone up and down, increased mechanization in the industry has dramatically cut jobs.
The good news is that solar and wind jobs are growing at a rate 12 times faster than the rest of the U.S. economy as demonstrated in EDF's newest clean energy jobs report. Even more encouraging, is that solar jobs are growing fastest in states that have been hit hard by coal job losses – states like Kentucky, Tennessee, and Ohio. Clean energy is creating a pipeline of well-paying jobs across all 50 states. Most of these jobs cannot be outsourced.
[Tweet "The President Should Understand Clean Energy is a Bi-Partisan Issue"]
There are more renewables in "red" than in "blue" congressional districts, and 83% of conservatives favor more solar development and 75% favor more wind development. Why? Because it makes economic sense.
Two weeks ago, a bipartisan coalition of governors wrote Trump a letter that argued that the nation's wind and solar energy resources are transforming low-income rural areas "in ways not seen since the passage of the Homestead Act over 150 years ago." U.S. wind facilities pay rural landowners $222 million a year. By 2030 rural landowners are projected to reap as much as $900 million a year by leasing land to wind developers.
Clean energy also creates energy independence. My co-panelist at the BERC conference, conservative activist Debbie Dooley said it best: "I love individual liberty and individual freedom, and to me solar, wind, clean energy mean liberty."
Another point that Dooley made – and one which we agree on – is that conservative lawmakers should be fighting to ensure consumers have multiple energy options. There are terrific opportunities to create policies that allow markets to operate more competitively in the energy industry — and clean energy can thrive.
Even without new policies, many corporations are choosing to invest in renewable energy — it facilitates independence and serves the bottom line.
While no regulations require this, leading companies like Microsoft, Nike, Nestlé, Walmart and many others are committed to sourcing 100% of their electricity from renewable energy.
And despite the threat of environmental rollbacks in the current administration, savvy companies continue to set aggressive, science-based climate goals for the decades ahead.
Energy efficiency creates millions of jobs
With almost 2.2 million jobs, energy efficiency employment represents a sizable portion of the national energy economy. Roughly 32% of the 6.5 million employees in the U.S. construction industry work on energy or building energy efficiency projects. Nearly 300,000 Americans manufacture energy efficient products. These jobs grew from sensible policy and regulations, but also from choices that homeowners, consumers, and businesses made to save money in the face of rising energy costs.
Fellow panelist, Ken Alston, Investment Manager at California Clean Energy Fund, reminded our audience that, "we are well on our way to a transition to a clean energy economy." Environmental protection and economic prosperity do not need to be at odds. As Michael Wheeler, Vice President of Policy Initiatives at Recurrent Energy noted, utility scale solar can thrive in current market conditions. "Solar can thrive under a Trump Administration as long as the administration does nothing to sabotage progress made to date," Wheeler added.
Rolling back environmental safeguards and reigniting a U.S. reliance on coal and oil is short-term thinking that puts us on a dangerous path. Our path to prosperity must be driven by long-term economics and science, not short-term politics.
This article originally appeared on LinkedIn.