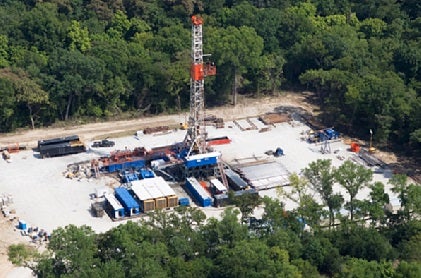 Last Thursday, EPA Administrator Scott Pruitt withdrew the agency's Information Collection Request ("ICR") for the Oil and Natural Gas Sector, abruptly halting the gathering of information on harmful methane, smog-forming and toxic pollution from these industrial sources.
In announcing the move, Administrator Pruitt hailed the benefits for the oil and gas industry, but notably ignored the interests of everyday Americans right to know about harmful pollution from oil and gas facilities.
Pruitt's action also stops EPA from obtaining information that can inform future safeguards against this pollution. Even though cost-effective, common-sense best practices and technologies exist to reduce emissions from oil and gas facilities, most existing facilities in this sector are largely exempt from any requirements to control the vast quantities of pollution they emit.
This flawed decision is at odds with the core tenets of the agency Administrator Pruitt is entrusted to lead and inimical to the health and environmental laws he has committed to faithfully execute. Unfortunately, it is also altogether predictable. Indeed this action—which allows oil and gas companies to withhold vital pollution data from thousands of sites across the country— reflects and reinforces concerns raised about Administrator Pruitt's ability to lead an agency that he has persistently sought to undermine.
1. Pruitt Chooses Secrecy Over Transparency.
EPA has a long bipartisan history of providing data to the public about pollution in their communities. Indeed, during the Reagan Administration, Congress passed the Emergency Planning and Community Right to Know Act, which included provisions for EPA to create a publicly-available inventory of toxic chemicals down to the local level. Similarly, President George W. Bush signed a bill requiring EPA to collect and disseminate greenhouse gas emissions data from industrial sources across the country.
By withdrawing the ICR, Administrator Pruitt aims to shield the oil and gas sector from public scrutiny. Unfortunately, his penchant for secrecy with respect the oil and gas sector is familiar. During his controversial Senate confirmation process, Pruitt sought to withhold thousands of emails related to his ties to major energy interests who have donated to his political causes. While a number of those e-mails have been released, many more remain hidden from public view.
In the face of last week's action by Administrator Pruitt, EDF has submitted a Freedom of Information Act request for all ICR data that has been submitted along with all records related to EPA's decision to halt data collection.
2. Pruitt Places a Premium on the Views of Industry and Their Allies
In recent years, EPA has undertaken a careful, data-driven process to put in place protections to reduce pollution from the oil and gas sector. Often, EPA undertook such extensive data gathering to address industry concerns. The ICR was the latest data gathering effort, designed to ensure EPA had the full complement of information on existing oil and gas facilities. These existing facilities account for the vast majority of the sector's pollution in coming years, yet remain largely exempt from any methane pollution control requirements.
To tailor its data request, EPA carried out two rounds of public comments, assessed significant stakeholder feedback, and substantially altered the request in response in order to leverage existing data and use electronic reporting frameworks.
In contrast to this careful and deliberative process, Administrator Pruitt withdrew the ICR with just one paragraph of explanation, just one day after receiving a request to do so from the Texas and Oklahoma Attorneys General and others.
Coincidentally, when Pruitt was Oklahoma Attorney General, he was aligned with the oil and gas industry in legal challenges seeking to undermine EPA's oil and gas methane standards. It is disappointing, but not surprising, that he did not solicit input or wait to hear from any of the many other stakeholders involved in this process. Pruitt's decision to withdraw the ICR may likewise raise conflicts of interest and should be closely scrutinized in light of his ethical obligations as administrator of EPA.
The Administrator has taken similar approaches in the past. As Oklahoma AG, for example, Pruitt simply copied and pasted industry requests and sent them to senior government officials under his own official seal.
EPA is legally required to protect the public from harmful pollution from oil and gas facilities. In carrying out that obligation, it is critical that public officials base decisions that affect our health and safety on careful review of the most rigorous scientific information available—and not simply accept, without any deliberation or inquiry, the recommendations of parties that have a vested interest in weakening health protections.
3. Pruitt's Selective View of States Rights
As reason for withdrawing the ICR, Administrator Pruitt pointed to the request from the Texas Attorney General and the need to, in his words, "strengthen … our partnership with the states."
But Pruitt's notion of cooperative federalism bears no resemblance to the collaborative approach that EPA and states have taken to solving air pollution problems over the last four decades. Indeed, the Administrator seems comfortable with states' rights when those states are seeking to hide emissions information and block clean air safeguards, but opposes states' rights when they want stronger protections for their citizens.
For instance, large oil and gas producing states like Colorado and California have in place standards to reduce oil and gas sector emissions. Last Thursday, Ohio adopted stronger standards for certain sources. Eleven states – including major energy-producing states like New Mexico and California – have intervened in court to defend the same EPA emission standards for the oil and gas sector that the Texas Attorney General and his allies attacked in their letter. And many states have likewise supported EPA's information collection request.
The Administrator's decision ignores these views and undermines stronger state-level partnership. This is the very same disregard for state efforts to reduce pollution that Administrator Pruitt demonstrated when, during his confirmation hearing, he conveyed reservations about California's longstanding authority to adopt vehicle emissions standards to address the state's unique air pollution problems. And, over the weekend, additional reports surfaced suggesting that the Administration was planning attacks on California's authority, which could be initiated as soon as this week.
This concept of states' rights as a one-way justification to erode clean air protections is both dangerous and inconsistent with the Clean Air Act's framework.
The underminer
During his confirmation hearing, Administrator Pruitt committed to carrying out EPA's mission to protect human health and the environment using rigorous data.  Unfortunately, with one of his first actions, he chose to undermine both.