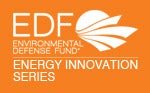 Throughout 2012, EDF's Energy Innovation Series will highlight more than 20 innovations across a broad range of energy categories, including smart grid and renewable energy technologies, energy efficiency financing, and progressive utilities, to name a few. This series will demonstrate that cost-effective, clean energy solutions are available now and imperative to lowering our dependence on fossil fuels.
For more information on this featured innovation, please view this video on Pecan Street Inc.
The last few years have been somewhat of a blur for most of the people involved in Austin-based Pecan Street Inc. (Pecan Street).
"In 2008, this was an idea on a napkin in a coffee shop," says Brewster McCracken, the holder of the napkin and now executive director of Pecan Street. "In 2010 we secured funding to launch a smart grid demonstration project. In 2011 we established the most robust collection of consumer energy use data on the planet. We want to see how people interact with new technology options. What works, what people like, what impact it has on their energy use and the grid itself."
The organization strives to 're-imagine' how we make, move and use energy on our existing system rather than reinvent the system itself. It has been tagged by the smart grid industry press as one of the hottest efforts in the country.
Pecan Street, which was incorporated as a 501(c)(3) non-profit in 2009, is an research and development consortium headquartered at the University of Texas at Austin. Its team consists of nearly a dozen staff and a web of researchers from the University of Texas and more than 10 member companies like Best Buy, Sony, Intel, Oncor, Texas Gas Service and Whirlpool Corporation. The Pecan Street board is comprised of members from the City of Austin, the Austin Chamber of Commerce, the University of Texas, the UT Clean Energy Incubator, Austin Energy and Environmental Defense Fund.
The deployment of 100 Volts in one square mile will be among the densest concentrations of plug-in vehicles in the country.
Pecan Street was initially funded through a $10 million grant from the Department of Energy, which was matched locally with another $14 million to conduct detailed research on the consumer energy usage and the smart grid. The organization also received funding by the Doris Duke Foundation to collect "energy lifestyle" data at 15-second intervals on a disaggregated level (measures 6 circuits) on 200 homes.
Its test bed is the Mueller community, a green-built redevelopment of the city's former airport. Just two miles from downtown Austin, Mueller is one of the hottest zip codes in town for people looking for clean, green urban living. Over the course of the five-year demonstration project, Pecan Street will deploy smart grid technology — home energy management systems, solar panels, electric vehicles, new pricing models and more — in up to 1,000 homes in and around Mueller. And did we mention that Pecan Street is the world's largest LEED-ND certified community?
So far, Pecan Street has loaded up Mueller with some remarkable smart grid stats: a third of the homes have solar panels and, by this summer, 100 Chevy Volts will be tooling around town and parking (and recharging) within Mueller's one-square-mile radius.
Greentech Media calls Pecan Street "the most ambitious EV-solar-smart-grid integration project in the United States."
And this spring, the organization broke ground on the country's first smart grid commercialization lab, located among the homes and retail in Mueller, that will serve as a testing facility with nationally unique opportunities for commercialization, research and education.