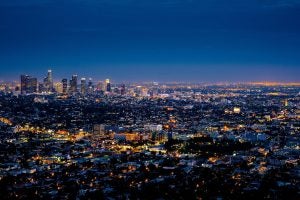 This week, the Los Angeles Department of Water and Power (LADWP), the largest municipal utility in the country, released the Equity Metrics Data Initiative (EMDI) "to track, measure, and report on how its programs are provided to all customers and residents of Los Angeles." This data will help ensure the utility's investments and programs are reaching all Angelenos.
EMDI is the LADWP's first effort to use data in the pursuit of equity in planning a clean energy future for all of us. Data gathered during the initiative will be used to create a baseline for measuring the impacts of and access to investment and services from LADWP. These include things like energy efficiency programs, solar incentives, and electric vehicle charging infrastructure ─ tracking how they reach different neighborhoods and customers, particularly those with economic and environmental vulnerabilities.
We know this is just the beginning of a process to refine and optimize all aspects of data collection and reporting. Most importantly, it is the start of a dialogue between customers, community organizations, decision makers within the department, and our elected leaders to address any disparities or challenges illustrated by this data tool.
LADWP has commendably worked with us and our colleagues at the REPOWER LA coalition to bring the EMDI to fruition. We're committed to helping the department and Mayor's office further develop and deploy it.
[Tweet "Largest U.S. city-owned utility uses Equity Metrics to ensure all residents have clean energy"]
Looking ahead
These equity metrics could serve as a model for other California utilities, public power providers, and relevant state agencies, as we work toward reducing barriers low income and disadvantaged communities face in accessing clean and affordable energy.
While off to a brilliant start, there's at least one caveat: In addition to continued stakeholder engagement, we strongly recommend the department engage an academic institution or specialized contractor to provide third-party analysis of the tool and its efficacy in measuring appropriate equity indicators. This will ensure our model is technically sound and can be replicated in other jurisdictions and by other utilities.
While it is still too soon for us to comment on specifics of the data LADWP has reported, we expect a much more robust analysis and dialogue for the next release in August 2017. For now, we'll continue to champion efforts by cities, states, and utilities to enhance access to data, which provides a platform for innovation in better service, lower costs, cleaner energy, and more equity and access for all customers.