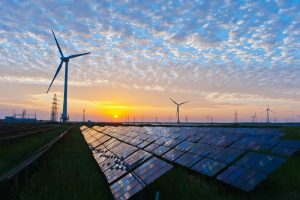 More than 25 U.S. cities, 12 countries, and at least 89 companies have all committed to transition to 100 percent renewable energy. That's because they all recognize the unstoppable potential clean energy has to create jobs, strengthen and protect the economy, and fight climate change.
Now, U.S. states are throwing their hats into the 100-percent renewable ring. California and Massachusetts have proposed plans to get there, while Hawaii has made the pledge. This 100-percent dream does not come from fantasy, but is actually the result of a number of coalescing factors.
Earth Day is our time to recognize what's more: With the right mix of clean energy technologies and solutions, 100 percent renewable is 100 percent possible.
100 percent is possible
Cost competitive and scalable renewable energy has taken off over the past 10 to 20 years. The hungry solar market in California for example, has resulted in exponential growth of utility-scale and rooftop solar over the last decade, creating over 150,000 jobs throughout the Golden State.
Recently, California powered 40 percent of its midday energy demand with solar power. A steady stream of policy actions at the state and local level – timed with the dramatic drop in costs of renewables – have helped make this possible. Across the U.S., current RPS policies alone could result in these benefits:
Renewables contributing 40 percent of total electricity generation in the U.S. by 2050;
Reducing climate change-causing greenhouse gases and harmful air pollutants like SOx and NOx (which together form ozone) by 6 percent; and
An almost 20 percent increase in jobs.
The bold inspiration, urgency, and benefit of 100 percent renewables is without question, but the pathway for getting there is less clear and will vary by state and region.
Making 100 percent work
Let's take California as an example, especially since it is currently considering a 100 percent renewable portfolio standard. California's electricity sector currently accounts for a fifth of the greenhouse gas emissions produced in the state. Thanks to legislation passed last year, the sector must reduce those emissions by 40 percent. The state's current 50 percent RPS is a hugely important piece to achieving those reductions.
Yet, as California's leaders consider higher RPS targets, they must simultaneously invest in and develop a variety of resource, policy, and market solutions to ensure the grid stays clean, balanced, and reliable.
[Tweet "This Earth Day, 100 percent clean energy is 100 percent possible"]
These are clean energy resources that can even-out the variability of renewables, and use market mechanisms to create more competition and opportunity to serve energy demand with renewables throughout the day.
Smart policies, technology, and market tools are gaining traction around the country and offer some excellent examples of how to lay a foundation for an energy system powered by 100 percent clean resources.
Connecting Western grid management
The Western U.S. is full of expansive and diverse natural beauty. This translates into an impressive abundance of clean energy resources like wind, solar, geothermal, and hydro power.
The Western U.S. is full of expansive and diverse natural beauty. This translates into an impressive abundance of clean energy resources like wind, solar, geothermal, and hydro power. Capitalizing on the West's resource and population footprint has been the driver for establishing a Western wide wholesale energy market.
Currently, 38 separate authorities manage the region's electric grid. Connecting them could increase renewables, reduce pollution and wasted resources, save people money, and create jobs. One sign this would work is the current Energy Imbalance Market, a voluntary market for utilities to sell energy in real-time. It has expanded in recent years to include utilities in Nevada and Arizona, and there has been a noticeable improvement in California's ability to put more of our renewables to use.
Solar + storage, and other tech
Hawaii was the first state in the nation to announce its plan to tackle a 100-percent RPS. Now the state is leveraging the dropping costs of solar-plus-storage technologies. Since the beginning of 2017, Kauai Electric Cooperative has won two such deals, a 13MW solar + 52MWh storage project with Tesla, and 28MW + 20MW storage project with Advanced Energy Solutions.
The price of the power from these projects is competitive and they're directly aimed at using as much of the state's high amount of solar power as possible.
Back on the mainland, a recent study of a 30 MW utility-scale solar plant equipped with smart inverters shows how clean resources can out-compete fossil fuel resources in operating the grid. Innovation is proof that renewables can be packaged to keep the grid reliable, allow operators to confidently maintain balance between supply and demand, and can alleviate concerns about the variability of renewables.
Using market signals
Distributed energy resources, like demand response and electric vehicles, can also provide important grid benefits in a variety of affordable ways. For example, time-of-use pricing (a type of demand response), could drive almost 8,000 GWh of energy demand to times of day when electricity is cheaply and cleanly powered by renewables.
Here's what time-of-use pricing could do for California:
Increase the amount of renewables we use by 10 percent;
Avoid over 8 million tons of carbon emissions; and
Save California energy customers, collectively, $700 million a year.
Using the power of price signals to incentivize electric vehicle charging when its cheapest and cleanest will help transform the growing fleets of clean vehicles into grid assets and help reduce pollution from the transportation sector, as well.
Why it matters
The California Independent System Operator (CAISO) – the organization charged with  balancing much  of California's grid – recently reported they will have to shut off 6,000 to 8,000 MW of solar due to over-generation (when supply exceeds demand). High levels of curtailment, aka wasted renewable resources, are not the goal of a 100 percent renewable target. Nor are the severe ramps of energy demand that CAISO projects when increasing amounts of variable renewable resources shut down at the end of the day. Currently, fossil fuels like natural gas service much of that high demand.
We need to make sure the road to 100 percent is paved with clean energy resources that will help integrate, store, and use those renewables throughout the day and do so affordably.
This way, California and other states and nations can continue to prove how to balance vibrant economic growth with a strong commitment to climate and energy policy.