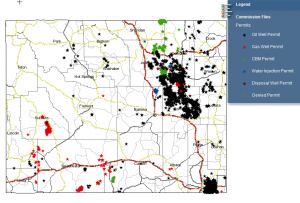 Wyoming has a long history of living with the oil and gas industry that goes back to the nineteenth century, but that doesn't mean that new drilling projects in new parts of the state don't get the public's attention. New neighbors are always a source of local interest and an approach to air quality regulations that includes different requirements for different parts of the state can lead local residents to ask what new oil and gas development will mean for their neighborhoods, for their air, and for their quality of life.
If the robust turnout of several hundred people at two recent public meetings in Laramie and Converse counties is any indication, there is significant interest in how potentially rapid oil and gas development could impact local communities.
Laramie County has seen a tenfold increase in drilling applications in recent years from 147 applications in 2013 to 1,570 in 2014. Meanwhile, the Bureau of Land Management is currently considering a proposal that could bring as many as 5,000 new wells to Converse County. State and federal officials therefore deserve praise for providing the public with a forum to air their questions and concerns.
Oil and gas has long been a bulwark of the Wyoming economy, but large new drilling projects can have unintended consequences such as elevated levels of unhealthy ozone pollution. That is why the state has historically designed stronger air regulations for the parts of the state witnessing the most intense drilling.
In southwestern Wyoming 's Pinedale area, the state is in the process of finalizing strong, sensible rules requiring things like regular inspections to detect and fix pollution leaks at both new and existing oil and gas wells. These pollution reduction strategies will not only help clear the air, but because they also limit methane pollution, they will reduce natural gas waste as well. Every hydrocarbon molecule that stays out of the air and in the pipe creates an economic and environmental win/win for the state.
Unfortunately, the same sensible, cost-effective requirements don't apply in eastern Wyoming where the lion's share of drilling is now occurring. Since Jan. 1, 2013 Converse and Laramie counties have ranked 1 and 2 in Wyoming for new drilling applications. Despite this, these counties have the most lenient air quality requirements in the state.
The Pinedale requirements were spurred by rapid oil and gas development and related ozone pollution that threatened the health of local residents and triggered federal requirements from the Environmental Protection Agency. As oil and gas drilling ramps up in the east other communities could face similar problems if the state doesn't act proactively to head off the problem at the pass.
It's an issue that has public health advocates concerned. As the Wyoming Public Health Association stated in the Casper Star Tribune this week, "The cost-effective, common-sense air protections developed in Pinedale should be applied on a statewide basis as soon as possible. Residents of the Equality State deserve equal access to healthy, clean air."
EDF agrees and will continue to support leveling the playing field by advocating for an extension of smart pollution controls across Wyoming.
 Photo Source: Wyoming Oil and Gas Conservation Commission