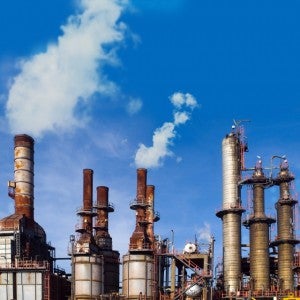 This post was co-authored by Peter Zalzal, EDF Attorney, and Brian Korpics, EDF Legal Fellow
On May 13, EDF—along with a coalition of 64 local, state, and national public interest groups—submitted a petition asking the Environmental Protection Agency to address toxic air pollution emitted from oil and natural gas operations in population centers around the country.
Earthjustice crafted the petition which focuses on a provision of the Clean Air Act. It authorizes EPA to establish standards for toxic pollution from oil and natural gas wells if those wells are in major metropolitan areas (areas with a population greater than 1 million), and if the agency finds the emissions "present more than a negligible risk of adverse effects to public health."
Impacts to Health
Toxic air pollutants –like benzene and toluene – are associated with heightened risks of cancer, respiratory disease, and developmental disorders in children.  The petition argues that, in light of the Clean Air Act's precautionary standard, the agency should move forward with standards to address this harmful pollution and that doing so is especially important given evidence that toxic emissions from the oil and gas sector could be more significant than previously thought.  For instance, a recent study found benzene emissions from oil and gas operations in the Denver-Julesberg Basin were seven times greater than reported estimates. These findings were based on aircraft  measurements taken in 2012 by the National Oceanic and Atmospheric Administration, work sponsored by EDF.
 Impacts to Climate
While this petition focuses specifically on toxic air pollution, the oil and gas sector also emits a suite of other damaging air pollutants,  including climate-destabilizing methane (the main ingredient in natural gas) and smog-forming volatile organic compounds (VOCs).  In his 2012 State of the Union Address, the President committed to "take every possible action to safely develop [oil and natural gas] . . . . Because America will develop this resource without putting the health and safety of our citizens at risk."  It is vital to put in place rigorous protections against air toxics for communities located near oil and gas facilities.   We also must work to establish comprehensive, national clean air standards that protect all communities from the full range of harmful pollution emitted by oil and gas operations.
Solutions Exist
Fortunately, cost-effective solutions are available to address the full spectrum of harmful air pollution from the oil and gas sector: methane, VOCs, and air toxics. Earlier this year, a study by ICF International identified several critical clean air measures that will reduce methane. By 2018, the report concludes that broadly deploying cost-effective emission reduction strategies across the oil and gas sector could reduce approximately 40 percent of the sector's methane emissions at a total cost of just one penny per thousand cubic feet of gas produced.  The report projects these same strategies will also reduce emissions of hazardous air pollutants (HAPs) and VOCs by 44 percent—all at no extra cost.
Taking Action
States and leading companies have already begun to deploy these cost-effective solutions. In February, Colorado became the first state in the nation to directly regulate methane emissions from the oil and gas production and gathering segments. These rules also control VOC emissions, and, in addition to several other important control strategies, they establish the strongest-in-the-nation leak detection and repair (LDAR) program. Ohio also followed suit last month with a rigorous program to identify and address leaks from hydraulically fractured wells. Meanwhile, Wyoming has had an effective LDAR program in place for certain new production facilities since September 2013. Each of these clean air standards will have multi-pollutant benefits.
In March of this year, the President issued a Strategy to Reduce Methane Emissions, taking an important first step toward limiting oil and gas sector pollution. As part of the President's roadmap, EPA issued five technical white papers to examine methane and VOC emissions from the oil and gas sector and to evaluate the control technologies available to reduce these emissions.
As both the Earthjustice petition and ICF report underscore, however, sources in the oil and gas sector also emit harmful toxic air pollution, and it is important to recognize all of the health and environmental benefits associated with enacting comprehensive clean air measures. Further, limiting oil and gas sector emissions can have critical energy security benefits for this country, given that finding and fixing leaks means less product is wasted, and that, in some cases, these measures can even save producers money through the sale of captured methane and other hydrocarbons.
The case for reducing oil and gas sector emissions is strong and multi-faceted, and we urge the Administration to move swiftly with comprehensive, national clean air standards to address this pollution — to protect our nation, our communities and our families.  Early action in the states points the way, but we're a long way from where we need to be on this critical issue.