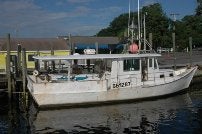 We know that Southeast fishermen and business owners aren't happy with the long season closures in place for many popular snapper grouper species, but today marks a victory toward better management that will help move the fishery away from closures. Today the South Atlantic Fishery Management Council voted unanimously to explore a catch share amendment for the snapper grouper fishery. 
Managing a fishery under catch shares  is an opportunity to replace current management that focuses on closures – which don't help fish, fishermen or businesses – with a more rational system that allows for increased flexibility about when and how to fish. Catch shares management also helps stocks recover and offers stability to fishing and other local businesses.
This decision is a chance for both commercial and recreational fishermen to get in the driver's seat about how their fishing is managed, and start getting their seasons back. Catch shares also help achieve conservation gains very quickly, such as significantly reducing the amount of fish that must be thrown overboard dead due to outdated management rules.
Several fishermen spoke up at the Council meeting in favor of catch shares.
"In the midst of these long closures, catch shares could be the fishing industry's saving grace," said Phil Conklin, a commercial fisherman out of Murrells Inlet, S.C.  "Just look at the Gulf's red snapper fishermen if you want proof that this can work in the Southeast. We're in the same situation they were five years ago. Rather than letting our fishing industry continue to go down the drain under these season closures, that many doubt will even help the fish and will certainly hurt fishermen, we should seriously consider catch shares for our fishery."
The Council's decision shows that they're thinking about the long-term health of the fishery. They should keep this momentum going and work to implement a catch share for the fishery soon. It's the best way to keep the Southeast's fishing heritage alive.