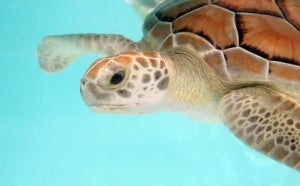 The National Marine Fisheries Service (NMFS) is proposing to implement a new rule this year that can help improve our understanding of sea turtles and how the fishing industry interacts with them. This is good news because the current data on "sea turtle interactions" isn't very plentiful in most fisheries. The rule would be important because managers need to understand the activities that affect sea turtles so they can develop effective conservation programs that recover threatened and endangered populations, such as Loggerhead sea turtles.
The rule would work by identifying fisheries in state and federal waters that will be required, upon NMFS' request, to take scientific observers on fishing trips to gather information about the number of sea turtles encountered and the types of interactions. Several fisheries would be put on a list, called an Annual Determination, and would be subject to carrying observers for 5 years. NMFS is proposing to include fisheries such as trawl fisheries and gillnet fisheries in this Annual Determination.
 
In addition to the use of observers, NMFS should consider using new technologies (such as at-sea video monitoring) that can be cost effective and may allow an increase in the level of monitoring, especially in fisheries where accommodating an observer is difficult. 
Good data will help NMFS evaluate existing sea turtle protections and develop better management measures. Regulations based on good data, sound science, and industry, accountability can improve management of sea turtles and help rebuild endangered populations.